PWS Fraser Coast
We Clean Water Tanks
Water Filter Supply & Service
Water Quality Testing & Analysis
Pristine Water Systems are the experts in water purification. We clean and sterilise water tanks, supply and service water filtration systems, and provide water testing and analysis.
Don't think your water tanks are in desperate need of cleaning?
Do you have any of these water problems?
Dirty or Discoloured Water
Bad Smelling Water
Bad Tasting Water
Stomach Complaints
Water Staining on Ceramics, Porcelain Walls or Fences
The Australian Drinking Water Guidelines (ADWG) recommend that your rainwater tanks should be cleaned every 2 to 3 years. But some areas require more regular cleaning due to:
Lots of tree coverage with falling organic material
Dry areas where animals, birds and insects are hunting for a water source
Sourcing water from Creeks, Dams, Bore or Spear
Spray drift from agricultural chemicals
Roadworks or dusty, dirt blown regions
From deteriorating water storage systems.
Regular maintenance will help prevent some of these problems, but you can't stop bacteria and viruses being washed into your rainwater tanks. Bird, insect and animal faeces are washed into your rainwater tanks every time it rains.
Pristine Water Systems has been in operation since 2003, becoming Australia's premier water tank cleaning business. As an industry leader we are also able to assist with expert advice when choosing and servicing the right filtration/ultraviolet sterilisation system for your family.
We come to you! Pristine Water System operators are a mobile business. We can quote over the phone or via email.
Call today or send a message and we'll get back to you as soon as possible.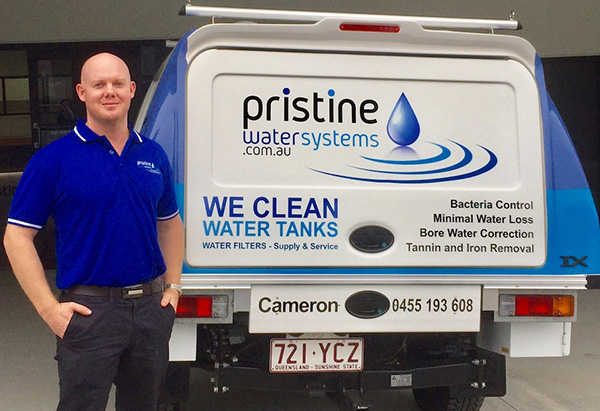 Cameron Inglis
Franchisee - PWS Fraser Coast
Cameron joined the Pristine Water Systems team after many years of working away in the Mining industry carrying out various roles in Underground mining operations. It was time to make a change and return home to provide a quality service that Cameron believes will benefit the local community.
Cameron lives locally in the Fraser Coast region and grew up on a property in Tiaro. Cameron and his family live on stored water supplies, so he can fully appreciate all the benefits as well as potential hazards associated with living on stored water.
Cameron is down to earth and loves meeting with people and is committed to his customers' needs. He prides himself on excellent customer service and getting the best results for his clients.
Cameron enjoys spending time with his family on their small property in Tinana with their sheep and miniature goats. Much like everyone in the region he likes to get away camping, fishing and over to Fraser Island.
 Follow us on Facebook
Please contact with your enquiry
Our Products / Services
Pristine Water Systems are specialists in water management systems. From water testing, professional water tank cleaning and sanitisation services, through to water filtration systems to solve your water problems.
Pristine Water Systems (PWS) uses a revolutionary trademarked water tank cleaning process, QuadClean™, for cleaning and sanitising stored water supplies in a wide range of domestic, rural and commercial situations. In addition PWS supplies and services a complete range of domestic, rural and commercial filtration products. PWS also offers a water advisory service to seek solutions for many other water management issues.
QuadClean™ is suitable for a wide variety of domestic, rural and commercial situations as well as many other applications associated with the sanitisation and treatment of stored water.
Our cleaning process removes debris from the bottom of the tank, such as leaf mould, mud, animal faeces and carcasses and these are vacuumed and pumped out without the need to empty the entire tank.
No chlorine; PWS utilises AqueousPro™ which is a unique water purifying product, approved under the Australian Drinking Water Guidelines. AqueousPro™ controls bacteria and viruses, removes nasty odours while oxygenating and rejuvenating stored water.
Water tests are carried out to determine the pH level and conductivity.
*Please note: Not every situation enables the full QuadClean™ process to be utilised. Your Pristine Water Systems Franchisee/Operator will advise on the appropriate treatment processes for each individual/site specific situation.
Aldershot
Antigua
Aramara
Bauple
Bauple Forest
Beaver Rock
Beelbi Creek
Bidwill
Boonooroo
Boonooroo Plains
Booral
Brooweena
Bunya Creek
Burgowan
Burrum Heads
Burrum River
Burrum Town
Craignish
Doongul
Duckinwilla
Dundathu
Dundowran
Dundowran Beach
Dunmora
Eli Waters
Ferney
Gigoomgan
Glenbar
Glenorchy
Gootchie
Grahams Creek
Granville
Great Sandy Strait
Gundiah
Gungaloon
Happy Valley
Hervey Bay
Howard
Island Plantation
Kawungan
Maaroom
Magnolia
Malarga
Maryborough
Maryborough West
Mount Urah
Mungar
Netherby
Nikenbah
North Armamara
Oakhurst
Owanyilla
Pacific Haven
Pialba
Pilerwa
Pioneers Rest
Point Vernon
Poona
Prawle
River Heads
Scarness
St Helens
St Mary
Sunshine Acres
Susan River
Takura
Talegalla Weir
Tandora
Teddington
Teebar
The Dimonds
Thinoomba
Tiaro
Tinana
Tinana South
Tinnanbar
Toogoom
Torbanlea
Torquay
Tuan
Tuan Forest
Urangan
Urraween
Walkers Point
Walliebum
Walligan
Wondunna
Woocoo
Yengarie
Yerra