PWS Lockyer Valley/Somerset
Business Opportunity
Looking to Balance Work & Lifestyle?
When you choose a Pristine Water Systems Franchise, you are buying into Australia's leading Water Tank Cleaning business. It's your business, with the support of industry experts! With your own Pristine Water Systems business, you'll be providing Australians with healthy, pure drinking water!
How long will it be before I am up and running?
PWS Lockyer Valley/Somerset has an existing database of customers who are currently being serviced by surrounding PWS Operators.
You will be ready to operate immediately after your training period. We have never had a person we cannot teach our methodology and how to use PWS equipment.
As an initial safety gap before you have your first customer bookings, we provide an income support package. This can extend from 1-month to 3-months (conditions apply).
During your training period, we will work with you on a Marketing and Advertising plan/budget, with the goal of you starting to book your first jobs as soon as you start.
Ultimately, how your business performs from the word go, is up to you! As with any business, without effort, there is no reward. But throughout your starting period, and beyond, we are in constant communication to assist you in getting the most out of your efforts.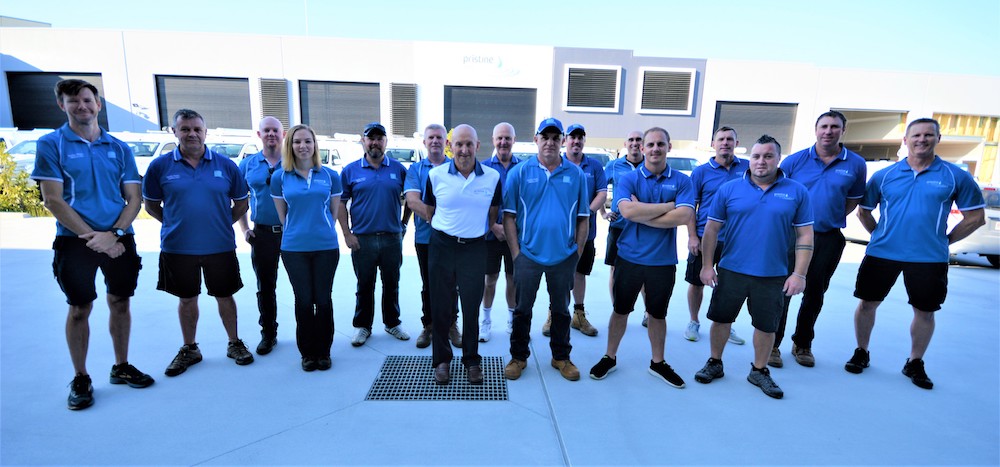 Our Operators come from a wide range of backgrounds!
Franchising is a partnership, and we're looking to partner with motivated people who are willing to put in a little effort to promote, develop and build a business for themselves. And in doing so, helping to provide safe, pristine drinking water right around Australia.
What do some of our existing Franchisee's have to say about PWS?
What an emotional rollercoaster it is purchasing a new business. No one could have prepared us for the excitement and the nerves we felt taking this incredibly large leap. But, we don't regret it for a moment!
The Pristine Water Systems Australia owners were so accommodating. No questions were too difficult, or too silly. They have been overwhelmingly supportive since our very first meeting. We couldn't be happier with our decision to buy a Pristine Water Systems Franchise.
It is a real big help knowing that I have over 50 years of experience just a phone call away whether it's something technical from Rob and Ty or the business side of things from David and Matthew. It was one of the main reasons why I have bought into this franchise business for the ongoing support.
Pristine Water Systems has given me the lifestyle I have always wanted with the opportunity to grow a business and work hard at something that I truly believe in, as I am helping so many people to get the best quality water possible.
I am surrounded by people who are always willing to help and be positive, which gives me the confidence to achieve all of my goals, (plus a bit of side banter here and there makes for a good laugh).
I now have time to do some of the things I have always wanted to do, such as owning a dog and actually having the time to walk and play every day.
I am constantly meeting new people and seeing new country which is an on going adventure, one cannot deny that is a great perk to any venture.
Enquire about PWS Lockyer Valley/Somerset today!
Click the Learn More button and we will be in touch with an Information Pack
Or scroll down to learn more about Pristine Water Systems Franchises
PWS Lockyer Valley/Somerset is available for a Low Cost Starting fee of:
Included in the price is:

✅ The Franchise fee which secures a large exclusive territory – selected based on a statistical feasibility study.

✅ A marketing package to assist building your customer base.

✅ All the plant and equipment fitted into your vehicle and ready to operate.

✅ A weekly income guarantee is also provided.

✅ Training fees and ongoing support.

**Plus Motor Vehicle (Cab/Chassis) & Plus GST. Vehicle may be financed instead of purchasing outright.

Never bought a business before, and wondering about Finance options?

We've compiled some Q&A's to help you out. Just click on the Learn More button below.

And if you have any further questions, just get in touch with the below contact form.
Key Features and Benefits of your own PWS business
Location benefits: Mobile Operation with Exclusive Territory. No need for store front or warehousing.
Regional opportunity: All available regions have been evaluated and researched to define suitable opportunity for operators to build a successful business.
Training: Induction and Ongoing training are included, allowing you to be at the forefront of the industry.
Earn while you learn: From day 1, be assured that you have the first 3-months covered with a base wage*
Concept: Professional Water Tank Cleaning + Water Filter Supply & Service
Agreement terms: 5 years + 5 years
Ideal opportunity for: Energetic, self-motivated individual with people skills, sales ability, enjoy working outdoors, good hand tools skills / mechanically-minded and keen to be involved in the service industry.
Our services help customers by cleaning and sanitising their stored water supplies providing clean, safe drinking water for the entire family. Pristine Water Systems Franchising offers training, marketing as well as ongoing support. You can be your own boss following our proven systems and processes, with access to our quality range of products.
*Conditions apply
Would you like to find out more?
Do you have what it takes? We will arrange to send you an information kit to help you find out all about a Pristine Water Systems franchise opportunity.
Are you an energetic, self-motivated individual with people skills, sales ability, enjoy working outdoors, good hand tools skills/mechanically-minded and keen to be involved in the service industry?

Learn more about PWS Franchising opportunities