Rural/Town Water Tank Cleaning
If you have tank water at your property, this water is at risk of being contaminated. Stored water in domestic holding tanks may appear clear and clean, but it is likely the water tank will contain organic contaminants as well micro-organisms including bacteria, viruses, algae, protozoa, parasites and mould spores.
Contact Us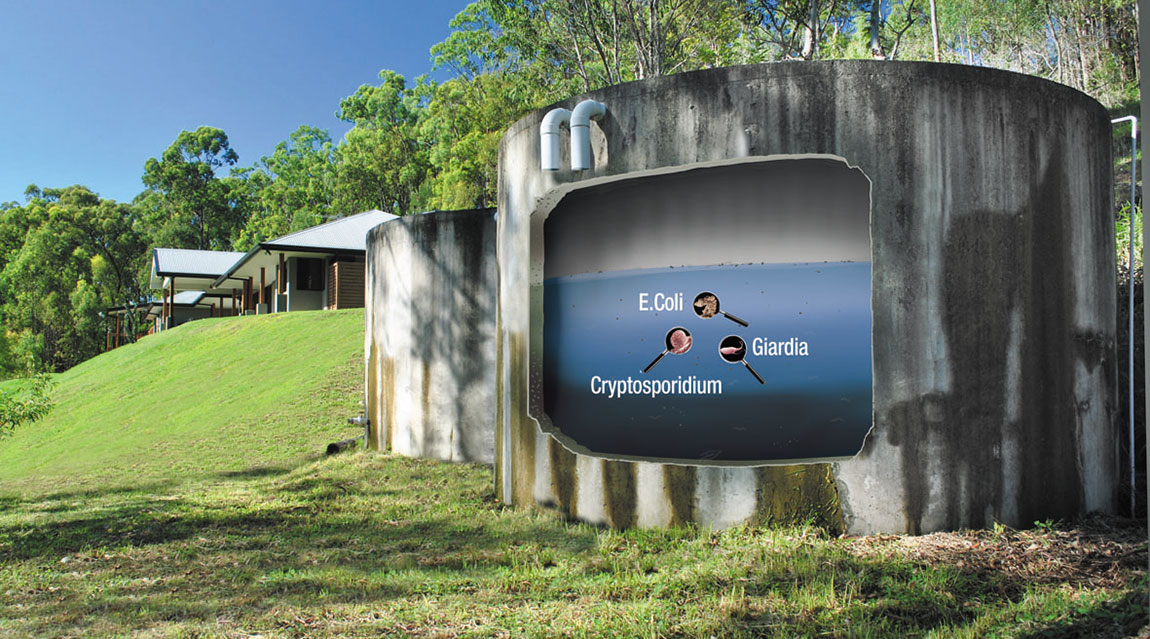 Pristine Water Systems (PWS) utilises a revolutionary process for cleaning and sanitising stored water supplies. Our QuadClean™ process is suitable for: rainwater tanks; domestic and commercial and many other applications associated with the sanitisation and treatment of stored water.
Here are some of the reasons why PWS QuadClean™ is a must:
Minimal water loss or wastage.
No chlorine used.
AqueousPro™ is a unique water purifying product that controls bacteria & viruses, approved under the Australia Drinking Water Guidelines, as a potable water treatment.
Health benefits of oxygenating water via sanitisation & filtration processes.
High standard of service with fantastic results.
In addition to our Tank Cleaning Services PWS also supplies and services a complete range of domestic, rural and commercial filtration products, from countertop and under sink household units or whole of house systems, through to ultra violet (UV) and reverse osmosis units to suit any application.
The potential health risks that can be associated with stored water in rainwater tanks. Birds, frogs, rodents, reptiles and insects can often find their way into rainwater tanks and their droppings contaminate the water, to say nothing of their carcasses when the animal is trapped and dies in the tank. Decaying animal and organic matter in a tank can introduce harmful bacteria such as E.coli and coliforms, salmonella, as well as giardia and cryptosporidium. Other materials such a dust, leaves, twigs, corroded metals, roofing product residues, smoke and wood fire particles can also be washed into the tank, tainting the drinking water and forming a significant amount of sludge in the bottom of the tank.
Do you experience any of the following?
Bad smelling water
Bad tasting water
Discoloured water.
Our solutions include…
Water filtration
Tank cleaning
Iron removal
Tannin removal
Water softening
The unique PWS QuadClean™ tank cleaning and sanitising is achieved through the following steps:-
Debris (Sludge) from the bottom of the tank such as leaf mould, mud and animal carcasses are vacuumed & pumped out (many Councils and water authorities recommend this be an annual practice).
The water is then passed through an advanced filtration system to eradicate any remaining foreign particles. This process also oxygenates the water.
AqueousPro™ is our sanitising product (approved under the Australia Drinking Water Guidelines as potable water treatment) which is added to control any harmful bacteria that may exist. It works by releasing millions of oxygen atoms into the water, which destroys bacteria, fungus and viruses but also removes unsavoury tastes and nasty odours.
Finally, water tests are carried out to determine the pH level and conductivity. Results are recorded for future reference with a detailed report given to the tank owner on completion.
*Please note: Not every situation enables the full QuadClean™ process to be utilised. Your Pristine Water Systems Franchisee/Operator will advise on the appropriate treatment processes for each individual/site specific situation.
Would you like to find out more about our tank cleaning services?
Fortunately it is as simple as contacting us, Pristine Water Systems can quickly and easily eliminate all of the above problems.