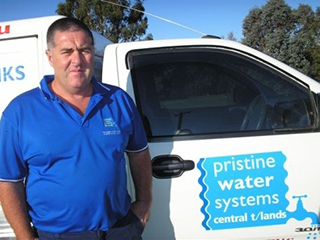 Phil Doig
Franchise Owner - Bathurst
Having being born and bred in Bathurst, Phil has a vast knowledge of the Bathurst region and the Central Tablelands.
Phil joined Pristine Water Systems in March 2010 and enjoys the challenge of running his own business, meeting new people and providing quality products and excellent customer service.
When not working, Phil enjoys fishing and spending time with his family.
To contact Phil call 0437 578 199
A message of thanks! After contacting my local rep, Phillip Doig, to clean my water tank. I just wanted to say what a wonderful, professional job that was completed.
The week before Xmas I had a sudden problem of sour water, and Phil went to every length to solve the problem as quickly as possible, which meant that he came out on a Sunday. He really is an asset to your company and I have continued to recommend him to friends in the area.
It is refreshing to meet someone who loves their job and takes a great deal of pride in what they do as well as a good dose of great customer care!
Thank you Phil!
Julia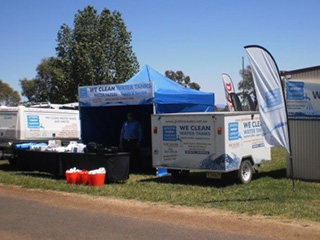 Pristine Water Systems (PWS) uses a revolutionary trademarked water tank cleaning process, QuadClean™, for cleaning and sanitising stored water supplies in a wide range of domestic, rural and commercial situations. In addition PWS supplies and services a complete range of domestic, rural and commercial filtration products. PWS also offers a water advisory service to seek solutions for many other water management issues.
QuadClean™ is suitable for a wide variety of domestic, rural and commercial situations* as well as many other applications associated with the sanitisation and treatment of stored water.
Our cleaning process removes debris from the bottom of the tank, such as leaf mould, mud, animal faeces and carcasses and these are vacuumed and pumped out without the need to empty the entire tank.
No chlorine; PWS utilises WaterCare® which is a unique water purifying product, approved under the Australian Drinking Water Guidelines. WaterCare® controls bacteria and viruses, removes nasty odors while oxygenating and rejuvenating stored water.
Water tests are carried out to determine the pH level and conductivity.
*Please note: Not every situation enables the full QuadClean™ process to be utilised. Your Pristine Water Systems Franchisee/Operator will advise on the appropriate treatment processes for each individual/site specific situation.
Service Areas
Bathurst
Blackheath
Blayney
Carcoar
Cargo
Clifton Grove
Cudal
Katoomba
Lawson
Lithgow
Lyndhurst
Millthorpe
Molong
Oberon
Orange
Perthville
Portland
Spring Hill
Wallerawang
Services
Professional Water Tank Cleaning & Sanitisation
Water Filters Supply & Service
Minimal Water Loss
Bacteria & Virus Control
Tannin & Iron Removal
Bore & Spear Water Correction
Acidic Water Correction
Water Testing
Products
Replacement Water Filters
Whole of House (WOH) Filtration Systems
Ultra Violet (UV) Systems, replacement lamps, parts & service
Bore Water Correction
Calcite Filtration – Acidic Water Correction
Caravan, Campervan and Motorhome Water Filtration Systems & Replacement Filters
Caravan, Campervan and Motorhome Holding Tank Sanitiser
Spear Water Correction – Spearity
Fridge Filters
Marine Filters
Marine Holding Tank Sanitiser
Commercial & Domestic Water Filtration Systems
Counter Top & Under Sink Water Filters
Shower & Baby Bath Filters
Reverse Osmosis (RO) Systems
Rural Water Filtration Systems
Shower Filters
Water Coolers & Chillers
Water Softeners – Bore & Spear Water Correction