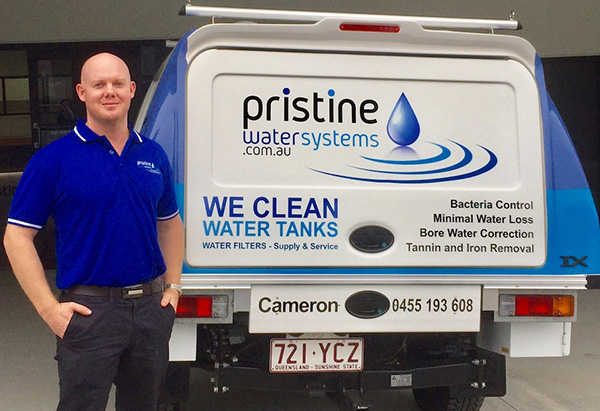 Cameron Inglis
Franchise - Bundaberg / Childers
Cameron is presently care-taking / servicing the Bundaberg region to ensure Pristine Water Systems Customers are serviced whilst a permanent franchisee is found.
Cameron joined Pristine Water Systems after many years of working away in the Mining industry, carrying out various roles in Underground mining operations, and realized it was time to make the change and return home to provide a service that Cameron believes will benefit the local community.
Cameron lives locally in the Fraser Coast region and grew up on a property in Tiaro.  Cameron and his family live on stored water supplies, so he can fully appreciate all the benefits as well as potential hazards associated with living on stored water.
Cameron is down to earth and loves meeting with people and is committed to his customers' needs.  He prides himself on excellent customer service and getting the best results for his clients.
Cameron enjoys spending time with his family on their small property in Tinana with their sheep and miniature goats. Much like everyone in the region he likes to get away camping, fishing and over to Fraser Island.
To contact Cameron call 0455 193 608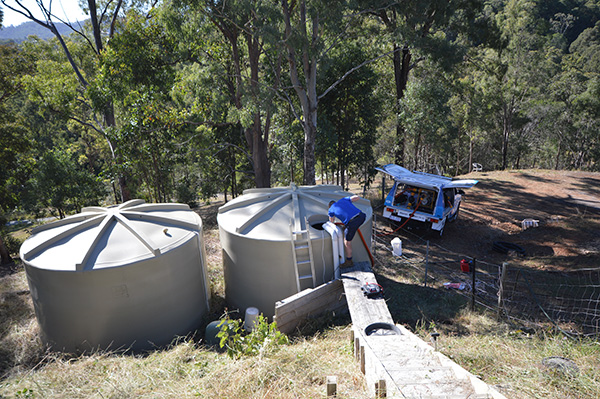 Pristine Water Systems (PWS) uses a revolutionary trademarked water tank cleaning process, QuadClean™, for cleaning and sanitising stored water supplies in a wide range of domestic, rural and commercial situations. In addition PWS supplies and services a complete range of domestic, rural and commercial filtration products. PWS also offers a water advisory service to seek solutions for many other water management issues.
QuadClean™ is suitable for a wide variety of domestic, rural and commercial situations as well as many other applications associated with the sanitisation and treatment of stored water.
Our cleaning process removes debris from the bottom of the tank, such as leaf mould, mud, animal faeces and carcasses and these are vacuumed and pumped out without the need to empty the entire tank.
No chlorine; PWS utilises WaterCare® which is a unique water purifying product, approved under the Australian Drinking Water Guidelines. WaterCare® controls bacteria and viruses, removes nasty odours while oxygenating and rejuvenating stored water.
Water tests are carried out to determine the pH level and conductivity.
*Please note: Not every situation enables the full QuadClean™ process to be utilised. Your Pristine Water Systems Franchisee/Operator will advise on the appropriate treatment processes for each individual/site specific situation.
Services
Professional Water Tank Cleaning & Sanitisation
Water Filters Supply & Service
Minimal Water Loss
Bacteria & Virus Control
Tannin & Iron Removal
Bore & Spear Water Correction
Acidic Water Correction
Water Testing
Service Areas
Abbotsford
Abington
Alloway
Apple Tree Creek
Aranbanga
Ashfield
Avenell Heights
Avoca
Avondale
Ban Ban
Ban Ban Springs
Bargara
Barlyne
Biggenden
Blairmore
Bon Accord
Boolboonda
Boompa
Booyal
Branch Creek
Branyan
Branyan
Bucca
Bullyard
Bundaberg Central
Bundaberg East
Bundaberg North
Bundaberg South
Bundaberg West
Bungadoo
Burnett Heads
Buxton
Byrnestown
Calavos
Campbell Creek
Cherwell
Childers
Coonarr
Coral Cove
Cordalba
Coringa
Coulstoun Lakes
Dallarnil
Dalysford
Damascus
Deep Creek
Degilbo
Delan
Didcot
Dirbir
Doolbi
Doughboy
Drinan
Duingal
Dundarrah
Electra
Elliott
Elliott Heads
Eureka
Fairymead
Farnsfield
Gaeta
Gayndah
Gin Gin
Ginoondan
Givelda
Golden Fleece
Gooburrum
Good Night
Goodwood
Gooroolba
Gregory River
Harriet
Horse Camp
Horton
Humphrey
Ideraway
Innes Park
Isis Central
Isis River
Kalkie
Kensington
Kepnock
Kinkuna
Kolonga
Kullogum
Lakeside
Maroondan
Mcilwraith
Meadowvale
Miara
Millbank
Mingo
Molangul
Mon Repos
Monduran
Moolboolaman
Moore Park
Moorland
Morganville
Mount Debateable
Mount Lawless
Mount Perry
Mount Steadman
Mullett Creek
Mungy
Nearum
New Moonta
North Gregory
North Isis
Norville
Oakwood
Old Cooranga
Penwhaupell
Pile Gully
Pine Creek
Promisedland
Qunaba
Redhill Farms
Redridge
Reids Creek
Rubyanna
Sharon
Skyring Reserve
South Bingera
South Isis
South Kolan
St Angnes
St Kilda
Stockhaven
Svensson Heights
Takilberan
Thabeban
The Limits
Tirroan
Toondahra
Wahoon
Walkervale
Wallville
Watalgan
Wateranga
Waterloo
Welcome Creek
Wetheron
Wilson Valley
Windermere
Winfield
Wonbah
Wonbah Forest
Woodgate
Woodmillar
Woongarra
Woowoonga
Yandaran
Yenda
Products
Replacement Water Filters
Whole of House (WOH) Filtration Systems
Ultra Violet (UV) Systems, replacement lamps, parts & service
Bore Water Correction
Calcite Filtration – Acidic Water Correction
Caravan, Campervan and Motorhome Water Filtration Systems & Replacement Filters
Caravan, Campervan and Motorhome Holding Tank Sanitiser
Spear Water Correction – Spearity
Fridge Filters
Marine Filters
Marine Holding Tank Sanitiser
Commercial & Domestic Water Filtration Systems
Counter Top & Under Sink Water Filters
Shower & Baby Bath Filters
Reverse Osmosis (RO) Systems
Rural Water Filtration Systems
Shower Filters
Water Coolers & Chillers
Water Softeners – Bore & Spear Water Correction