WATER CORRECTION & TESTING | WATER TANK CLEAN | WATER FILTER AND ULTRAVIOLET STERILISATION SYSTEMS |SERVICING & MAINTENANCE   
Pristine Water Systems Bundaberg Childers
We Clean Water Tanks

Water Filter Supply & Service

Water Quality Testing & Analysis
Pristine Water Systems Bundaberg Childers
We Clean Water Tanks

Water Filter Supply & Service

Water Quality Testing & Analysis
Healthy, quality water supply from your water tanks to your taps!
Pristine Water Systems Bundaberg Childers are specialists in water management systems. From water testing, professional water tank cleaning and sanitisation services, through to water filtration systems to solving your water problems.
Please contact us with your enquiry
CALL

0455 193 608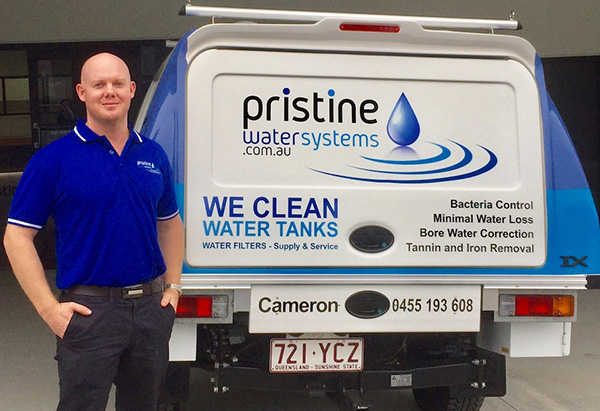 Cameron Inglis
Operator
Cameron services the Bundaberg region from the Fraser Coast.
Cameron joined Pristine Water Systems after many years of working away in the Mining industry, carrying out various roles in Underground mining operations, and realised it was time to make the change and return home to provide a service that Cameron believes will benefit the local community.
Cameron lives locally in the Fraser Coast region and grew up on a property in Tiaro. Cameron and his family live on stored water supplies, so he can fully appreciate all the benefits as well as potential hazards associated with living on stored water.
Cameron is down to earth and loves meeting with people and is committed to his customers' needs. He prides himself on excellent customer service and getting the best results for his clients.
Cameron enjoys spending time with his family on their small property in Tinana with their sheep and miniature goats. Much like everyone in the region he likes to get away camping, fishing and over to Fraser Island.
Products & Services
Pristine Water Systems Bundaberg Childers has solutions for all your water supply needs. If you have smelly or dirty water in our rainwater tanks, broken filter screens, require replacement filters or ultraviolet sterilisation systems, our team of experienced water technicians will be able to assist.
WATER TANK CLEANING
Pristine Water Systems Bundaberg Childers utilises our revolutionary process for cleaning and sanitising your rainwater tanks. Quadclean™ is our proprietary process of ensuring the water in your water storage tanks is clean of sediment and dirt, and that it is sanitised with AqueousPro™ to ensure your drinking water is free of bacteria and viruses.
WATER FILTERS / FILTRATION
Pristine Water Systems Bundaberg Childers can help you choose the right filtration system for your needs, and can service and maintain your existing filtration system. Our Protect-UV™ range of filtration and ultraviolet units are married up with the right filters to ensure you have minimal loss of water pressure, and to ensure you have clean, healthy water coming through to your taps.

WATER TREATMENT
Pristine Water Systems Bundaberg Childers are the specialists in water management systems. Our team of highly experienced water technicians can help provide the right solution for your problems. We can provide a full range of water testing, from in-field analysis through to laboratory testing. With the right information, we can provide you with the right solutions!
Bacteria festers in your water tanks and turns your water nasty!
When did you last have your water tank cleaned?
Contact Cameron, your local Pristine Water Systems water technician today for a FREE tank water inspection.
PRISTINE WATER SYSTEMS BUNDABERG CHILDERS
The Bundaberg Childers Team is Here To Help
We have designed a filtration system that gives you confidence that your family has access to clean and safe drinking water all year round. 
Free Onsite Inspection
If you're wondering what might be lurking at the bottom of your drinking water tank, give the team at Pristine Water Systems Bundaberg Childers a call. We'll offer you a no obligation water tank clean and inspection and diagnose of any harmful substances that may be found.
Our team adhere to the community safety guidelines when visiting customers ensuring everyone's safe in our community. Ask about out water testing service today.
Filtration Systems
One system that cleans water of sediment and destroys 99.9% of harmful micro-organisms leaving pristine safe drinking water for you and your family.
With our filtration system in place your family will be healthier. This system dramatically reduces your exposure to parasites, bacteria and viruses that lead to health problems such as diarrhoea, cramping and more.
WATER TANK CLEANING PROCESS
Why get your rainwater tank checked?
You can not put a price on your families health but for a price you can ensure your family is consuming safe and clean water.
​The cost of a UV system can come as a shock to some people but considering you have your own water supply and are not paying for town water you are saving money each year you would otherwise be spending on your water bill.
​Depending on the amount of water used, the average household in Queensland spends roughly $1,200 on water bills per year.
​Installing a system that can give you confidence drinking your rainwater will be cheaper in the long run and give you access to better quality water free of harmful chemicals present in town water.
Pristine Water Systems Bundaberg Childers
Pristine Water Systems is at the forefront of water purification systems, with a strong focus on the development of new technologies to treat and manage water quality.
Pristine Water Systems difference stems from our passion for providing quality drinking water through continual development of products and new technology.
Pristine Water Systems are the experts in water purification. We clean and sterilise water tanks, supply and service water filtration systems, and provide water testing and analysis.
Do you think your water tanks are in desperate need of cleaning?
Do you have any of these water problems?
Dirty or Discoloured Water
Bad Smelling Water
Bad Tasting Water
Stomach Complaints
Water Staining on Ceramics, Porcelain Walls or Fences
The Australian Drinking Water Guidelines (ADWG) recommend that your rainwater tanks should be cleaned every 2 to 3 years. But some areas require more regular cleaning due to:
Lots of tree coverage with falling organic material
Dry areas where animals, birds and insects are hunting for a water source
Sourcing water from Creeks, Dams, Bore or Spear
Spray drift from agricultural chemicals
Roadworks or dusty, dirt blown regions
From deteriorating water storage systems.
Regular maintenance will help prevent some of these problems, but you can't stop bacteria and viruses being washed into your rainwater tanks. Bird, insect and animal faeces are washed into your rainwater tanks every time it rains.
Pristine Water Systems has been in operation since 2003, becoming Australia's premier water tank cleaning business. As an industry leader we are also able to assist with expert advice when choosing and servicing the right filtration/ultraviolet sterilisation system for your family.
We come to you! Pristine Water System operators are a mobile business. We can quote over the phone or via email.
Call today or send a message and we'll get back to you as soon as possible.
Pristine Water Systems Bundaberg Childers
BOOK YOUR FREE TANK INSPECTION TODAY
Pristine Water Systems Bundaberg Childers are the specialists in water management systems. Our expert water technicians are backed by a national group of water tank cleaning and water filtration specialists. If you have problems with your water supply and storage, we have the solution!
Pristine Water Systems Bundaberg Childers
Bundaberg Childers, Queensland, Australia
Phone: 0455 193 608
Hours: 9am – 5pm
What Our Customers are Saying
Frequently Asked Questions
How much does tank cleaning usually cost?
There is no set price per tank as there are numerous variables that we have to consider. For the best quoted price, please get in touch or request a FREE/No obligation tank water test on premises.
Influencing factors on quoting include:
Type of tank: Concrete, Poly, Galvanised, Liners
Size of Tank/Number of tanks
Depth of sediment
Amount of water
Tank accessibility and scrubbing
A Pristine Water Systems Tank Clean is not just a "jet wash" and hose down. We vacuum clean the sediment out of the tank, aerate and filter the water, sanitise/disinfect the water and lines, and test your water for quality before use.
When is the best time to have our tanks cleaned?
Tanks may need to be cleaned any time of the year, when you have dead animals, debris build-up, or an issue with illness (possibly due to bacteria). However, cleaning your tank before Spring/Summer will help avoid potential issues where bacteria will breed during those hot months.
How often should water tanks be cleaned?
We recommend an annual clean and sanitisation of your drinking water tank/s. This will help reduce the amount of water wastage and keep the costs down in maintaining your tank. The more sediment build-up, the longer it takes to remove and the more water required.
Should I empty my tank before it gets cleaned?
No. Please don't!
The more water the better, with the exception if the water is contaminated (where we will be required to drain the tank, clean and sterilise before refilling).
We need water in the tank to be able to vacuum the sludge from the floor. It doesn't need to be completely full, but a minimum of one third or 1 meter of water is necessary.
What is water sanitiser? Is it a chemical?
A Water Sanitiser is a product used to neutralise bacteria and water borne viruses. There are various products available on the market, the most common which are Chlorine based. For rainwater tanks, we do not recommend using a Chlorine based water sanitiser in your tanks.
The Pristine Water Systems water sanitiser, AqueousPro™ 50, is a professional grade Water Sanitiser used to purify drinking water from contamination that can occur in water tanks and similar applications.
It is not Chlorine based!
Abbotsford
Abington
Alloway
Apple Tree Creek
Aranbanga
Ashfield
Avenell Heights
Avoca
Avondale
Ban Ban
Ban Ban Springs
Bargara
Barlyne
Biggenden
Blairmore
Bon Accord
Boolboonda
Boompa
Booyal
Branch Creek
Branyan
Branyan
Bucca
Bullyard
Bundaberg Central
Bundaberg East
Bundaberg North
Bundaberg South
Bundaberg West
Bungadoo
Burnett Heads
Buxton
Byrnestown
Calavos
Campbell Creek
Cherwell
Childers
Coonarr
Coral Cove
Cordalba
Coringa
Coulstoun Lakes
Dallarnil
Dalysford
Damascus
Deep Creek
Degilbo
Delan
Didcot
Dirbir
Doolbi
Doughboy
Drinan
Duingal
Dundarrah
Electra
Elliott
Elliott Heads
Eureka
Fairymead
Farnsfield
Gaeta
Gayndah
Gin Gin
Ginoondan
Givelda
Golden Fleece
Gooburrum
Good Night
Goodwood
Gooroolba
Gregory River
Harriet
Horse Camp
Horton
Humphrey
Ideraway
Innes Park
Isis Central
Isis River
Kalkie
Kensington
Kepnock
Kinkuna
Kolonga
Kullogum
Lakeside
Maroondan
Mcilwraith
Meadowvale
Miara
Millbank
Mingo
Molangul
Mon Repos
Monduran
Moolboolaman
Moore Park
Moorland
Morganville
Mount Debateable
Mount Lawless
Mount Perry
Mount Steadman
Mullett Creek
Mungy
Nearum
New Moonta
North Gregory
North Isis
Norville
Oakwood
Old Cooranga
Penwhaupell
Pile Gully
Pine Creek
Promisedland
Qunaba
Redhill Farms
Redridge
Reids Creek
Rubyanna
Sharon
Skyring Reserve
South Bingera
South Isis
South Kolan
St Angnes
St Kilda
Stockhaven
Svensson Heights
Takilberan
Thabeban
The Limits
Tirroan
Toondahra
Wahoon
Walkervale
Wallville
Watalgan
Wateranga
Waterloo
Welcome Creek
Wetheron
Wilson Valley
Windermere
Winfield
Wonbah
Wonbah Forest
Woodgate
Woodmillar
Woongarra
Woowoonga
Yandaran
Yenda
Please contact us with your enquiry
Copyright 2022 Pristine Water Systems Bundaberg Childers – All Rights Reserved. Privacy Policy | Warranty Policy