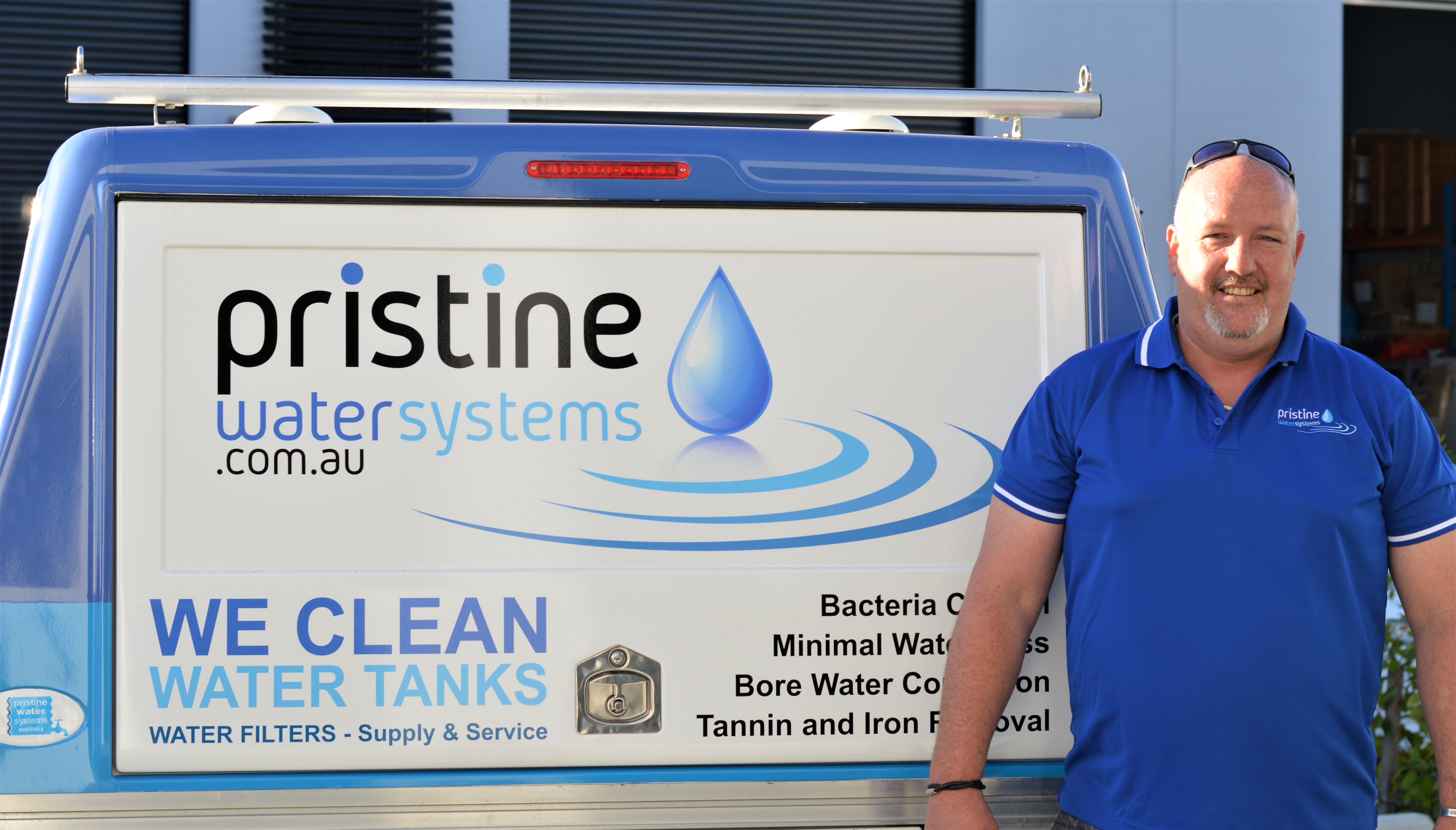 Adam Mowbray
Franchise Owner - Coffs Coast, NSW
Adam joined the Pristine Water Systems family with many years experience as a business owner.
Having owned/operated a Childcare Centre and Jims Mowing Service franchise, Adam knows how to help his customers and provide exceptional service.
Moving to the Coffs Coast region specifically to support Pristine customers, Adam lives on tank water so can fully appreciate all the benefits and potential hazards associated with living on stored water.
To contact Adam call 0402 341 051
Just a note to thank you for the help you have given over the last twelve months with the various water issues we have had.
We spent a considerable sum in having our bore put down and were extremely disappointed with the results of our bore water analysis. We had no idea there were levels of iron, lead and arsenic far exceeding Australian standards for drinking water. To find that there was a solution to this problem was an immense relief.
Thanks to the installation of the water softener and the reverse osmosis unit we now have water that is both safe and useable for our requirements. This means we have water that we can use in our pool without staining problems along with top quality drinking water. Drinking water quality is an important issue for me at this time with my health concerns.
I appreciate and value the attention to the problem and the solution. Thank you Pristine Water Systems!
Jill Spink
Pristine Water Systems (PWS) uses a revolutionary trademarkedwater tank cleaning process, QuadClean™, for cleaning and sanitising stored water supplies in a wide range of domestic, rural and commercial situations. In addition PWS supplies and services a complete range of domestic, rural and commercial filtration products. PWS also offers a water advisory service to seek solutions for many other water management issues.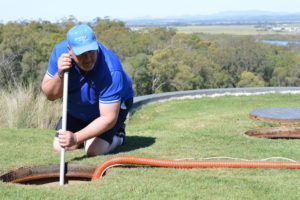 QuadClean™ is suitable for a wide variety of domestic, rural and commercial situations as well as many other applications associated with the sanitisation and treatment of stored water.
Our cleaning process removes debris from the bottom of the tank, such as leaf mould, mud, animal faeces and carcasses and these are vacuumed and pumped out without the need to empty the entire tank.
No chlorine; PWS utilises WaterCare® which is a unique water purifying product, approved under the Australian Drinking Water Guidelines. WaterCare® controls bacteria and viruses, removes nasty odours while oxygenating and rejuvenating stored water.
Water tests are carried out to determine the pH level and conductivity.
*Please note: Not every situation enables the full QuadClean™ process to be utilised. Your Pristine Water Systems Franchisee/Operator will advise on the appropriate treatment processes for each individual/site specific situation.
Services
Professional Water Tank Cleaning & Sanitisation
Water Filters Supply & Service
Minimal Water Loss
Bacteria & Virus Control
Tannin & Iron Removal
Bore & Spear Water Correction
Acidic Water Correction
Water Testing
Products
Replacement Water Filters
Whole of House (WOH) Filtration Systems
Ultra Violet (UV) Systems, replacement lamps, parts & service
Bore Water Correction
Calcite Filtration – Acidic Water Correction
Caravan, Campervan and Motorhome Water Filtration Systems & Replacement Filters
Caravan, Campervan and Motorhome Holding Tank Sanitiser
Spear Water Correction – Spearity
Fridge Filters
Marine Filters
Marine Holding Tank Sanitiser
Commercial & Domestic Water Filtration Systems
Counter Top & Under Sink Water Filters
Shower & Baby Bath Filters
Reverse Osmosis (RO) Systems
Rural Water Filtration Systems
Shower Filters
Water Coolers & Chillers
Water Softeners – Bore & Spear Water Correction
Service Areas
Argents Hill
Arrawarra
Arrawarra Headland
Bakers Creek
Bellingen
Bielsdown Hills
Boambee
Boambee East
Boggy Creek
Bonville
Bostobrick
Bowraville
Brierfield
Briggsvale
Brinerville
Brooklana
Bucca
Bucra Bendinni
Buffer Creek
Bundagen
Burrapine
Cascade
Coffs Harbour
Congarinni
Congarinni North
Coramba
Corindi Beach
Dairyville
Darkwood
Deer Vale
Donnellyville
Dorrigo
Dorrigo Mountain
Dorrigo North
Emerald Beach
Fernbrook
Fernmount
Girralong
Glen Fernaigh
Gleniffer
Glenreagh
Gordonville
Gumma
Harness Cask
Hernani
Hydes Creek
Hyland Park
Kalang
Karangi
Kennaicle Creek
Killiekrankie
Kooroowi
Korora
Leigh
Lowanna
Lower Bucca
Lower Taylors Arm
Macksville
Marx Hill
Maynards Plains
Megan
Meldrum Downs
Missabotti
Moonee Beach
Moonpar
Muldiva
Mullaway
Mylestrom
Nambucca Heads
Nana Glen
Never Never
Newee Creek
Newry
Newry Island
North Bellingen
North Boambee Valley
North Macksville
Orama
Paddys Plain
Promised Land
Raleigh
Red Rock
Raleigh South
Repton
Safety Beach
Sandy Beach
Sapphire Beach
Sawtell
Scotchman
Scotts Head
South Arm
Spicketts Creek
Talarm
Tallowwood Ridge
Tarkeeth
Taylors Arm
Tewinga
Thora
Thumb Creek
Toormina
Tyringham
Ulong
Upper Corindi
Upper Orara
Upper Taylors Arm
Upper Thora
Urunga
Utungun
Valery
Valla
Valla Beach
Viewmont
Warrell Creek
Way Way
Wenonah Head
Wild Cattle Creek
Wirrimbi
Woolgoolga
Yarranbella