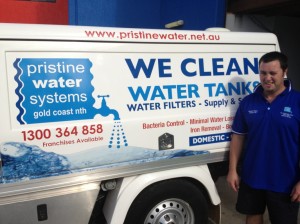 Tyronne (Ty) Anderson
Franchise - Dayboro / Samford Valley
Ty is presently care-taking the Dayboro / Samford Valley region to ensure our Pristine Water Systems customers are serviced whilst a permanent franchisee in the Dayboro region is found.
Ty previously worked as a fabrication technician for over 9 years and prior to this he worked as a farm hand, where among many hands on duties he worked with irrigation systems.
Ty enjoys working outdoors and helping customers remedy their water issues. He works closely with the Pristine Water Systems head office team, which is based at Ashmore. Ty regularly draws on the experiences from our founding directors and is constantly sharing feedback and information with the group.
On weekends Ty enjoys spending time with his family, camping, bush walking and photography. His passion remains as a part-time musician.
To contact Ty call 0409 727 997
Pristine Water Systems (PWS) uses a revolutionary trademarked water tank cleaning process, QuadClean™, for cleaning and sanitising stored water supplies in a wide range of domestic, rural and commercial situations. In addition PWS supplies and services a complete range of domestic, rural and commercial filtration products. PWS also offers a water advisory service to seek solutions for many other water management issues.
QuadClean™ is suitable for a wide variety of domestic, rural and commercial situations as well as many other applications associated with the sanitisation and treatment of stored water.
Our cleaning process removes debris from the bottom of the tank, such as leaf mould, mud, animal faeces and carcasses and these are vacuumed and pumped out without the need to empty the entire tank.
No chlorine; PWS utilises WaterCare® which is a unique water purifying product, approved under the Australian Drinking Water Guidelines. WaterCare® controls bacteria and viruses, removes nasty odours while oxygenating and rejuvenating stored water.
Water tests are carried out to determine the pH level and conductivity.
*Please note: Not every situation enables the full QuadClean™ process to be utilised. Your Pristine Water Systems Franchisee/Operator will advise on the appropriate treatment processes for each individual/site specific situation.
Services
Professional Water Tank Cleaning & Sanitisation
Water Filters Supply & Service
Minimal Water Loss
Bacteria & Virus Control
Tannin & Iron Removal
Bore & Spear Water Correction
Acidic Water Correction
Water Testing
Service Areas
Armstrong Creek
Burpengary
Burpengary East
Camp Mountain
Campbells Pocket
Cedar Creek
Clontarf
Clontarf Beach
Closeburn
Dakabin
Dayboro
Deception Bay
Draper
Enoggera Reservior
Griffin
Highvale
Jollys Lookout
Kallangur
Kings Scrub
Kippa-Ring
Kobble Creek
Kurwongbah
Laceys Creek
Mango Hill
Margate
Margate Beach
Moorina
Morayfield
Mount Glorious
Mount Mee
Mount Nebo
Mount Pleasant
Mount Samson
Murrumba Downs
Narangba
Newport
North Lakes
Ocean View
Petrie
Redcliffe
Redcliffe North
Rothwell
Rush Creek
Samford
Samford Valley
Samford Village
Samsonvale
Scarborough
Whiteside
Wrights Mountain
Woody Point
Yugar
Products
Replacement Water Filters
Whole of House (WOH) Filtration Systems
Ultra Violet (UV) Systems, replacement lamps, parts & service
Bore Water Correction
Calcite Filtration – Acidic Water Correction
Caravan, Campervan and Motorhome Water Filtration Systems & Replacement Filters
Caravan, Campervan and Motorhome Holding Tank Sanitiser
Spear Water Correction – Spearity
Fridge Filters
Marine Filters
Marine Holding Tank Sanitiser
Commercial & Domestic Water Filtration Systems
Counter Top & Under Sink Water Filters
Shower & Baby Bath Filters
Reverse Osmosis (RO) Systems
Rural Water Filtration Systems
Shower Filters
Water Coolers & Chillers
Water Softeners – Bore & Spear Water Correction