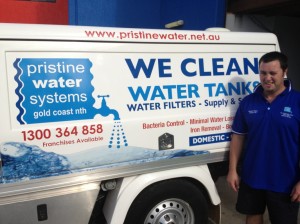 Tyronne (Ty) Anderson
Franchise - Gold Coast North, QLD
Ty has been part of the Pristine Water Systems team for over 5 years. He is an experienced water technician who has completed many domestic and commercial tank cleans during this time.  Much of the commercial applications have been within high rise buildings and Body Corporate communities.
Ty previously worked as a fabrication technician for over 9 years and prior to this he worked as a farm hand, where among many hands-on duties he worked with irrigation systems.
Ty enjoys working outdoors and helping customers remedy their water issues.  He works closely with the Pristine Water Systems head office team, which is based at our Arundel office. Ty regularly draws on the experiences from our founding directors and is constantly sharing feedback and information with the Franchise group.
On weekends Ty enjoys spending time with his family, camping, bush walking and photography. His passion remains as a part-time musician.
To contact Ty call 0408 511 327
This business is run by true gentlemen, who listened to what I wanted and delivered a quality job – each and every time. I have had my tanks cleaned a couple of times now over the years (thanks to pesky bats/flying foxes).
They've repaired my spear pump saving me from buying a new one unnecessarily; and Tyronne (a more recent addition to the business and a real bonus) has also installed an in-line filter (in a tricky spot, building a special frame to help it fit in). He also installed a transfer pump so I can move water from my spare tank to where I most need it – the tank attached to the house.
I can truly recommend the guys at Pristine Water Systems without any reservations at all.
Liz
Pristine Water Systems (PWS) uses a revolutionary trademarked water tank cleaning process, QuadClean™, for cleaning and sanitising stored water supplies in a wide range of domestic, rural and commercial situations. In addition PWS supplies and services a complete range of domestic, rural and commercial filtration products. PWS also offers a water advisory service to seek solutions for many other water management issues.
QuadClean™ is suitable for a wide variety of domestic, rural and commercial situations as well as many other applications associated with the sanitisation and treatment of stored water.
Our cleaning process removes debris from the bottom of the tank, such as leaf mould, mud, animal faeces and carcasses and these are vacuumed and pumped out without the need to empty the entire tank.
No chlorine; PWS utilises WaterCare® which is a unique water purifying product, approved under the Australian Drinking Water Guidelines. WaterCare® controls bacteria and viruses, removes nasty odours while oxygenating and rejuvenating stored water.
Water tests are carried out to determine the pH level and conductivity.
*Please note: Not every situation enables the full QuadClean™ process to be utilised. Your Pristine Water Systems Franchisee/Operator will advise on the appropriate treatment processes for each individual/site specific situation.
Services
Professional Water Tank Cleaning & Sanitisation
Water Filters Supply & Service
Minimal Water Loss
Bacteria & Virus Control
Tannin & Iron Removal
Bore & Spear Water Correction
Acidic Water Correction
Water Testing
Products
Replacement Water Filters
Whole of House (WOH) Filtration Systems
Ultra Violet (UV) Systems, replacement lamps, parts & service
Bore Water Correction
Calcite Filtration – Acidic Water Correction
Caravan, Campervan and Motorhome Water Filtration Systems & Replacement Filters
Caravan, Campervan and Motorhome Holding Tank Sanitiser
Spear Water Correction – Spearity
Fridge Filters
Marine Filters
Marine Holding Tank Sanitiser
Commercial & Domestic Water Filtration Systems
Counter Top & Under Sink Water Filters
Shower & Baby Bath Filters
Reverse Osmosis (RO) Systems
Rural Water Filtration Systems
Shower Filters
Water Coolers & Chillers
Water Softeners – Bore & Spear Water Correction
Service Areas
Arundel
Ashmore
Benowa
Biggera Waters
Broadbeach
Broadbeach Waters
Bundall
Coombabah
Chevron Island
Chirn Park
Ephraim Island
Ernest
Helensvale
Hollywell
Hope Island
Isle of Capri
Labrador
Main Beach
Molendinar
Monterey Keys
Paradise Point
Parkwood
Runaway Bay
Sanctuary Cove
Santa Barbara
Southport
Southport Park
South Stradbroke
Soverign Islands
Surfers Paradise