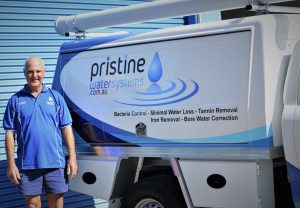 Maurie Payne
Franchise Owner - Gold Coast Hinterland
Maurie joined Pristine Water Systems in June 2007. Maurie is very much a people person, and prides himself in reliability and efficient advice and service. Like all of Pristine's franchisees, he also appreciates the freedom and enjoyment of working outdoors.
He is a keen golfer and is involved in the local community within the Tamborine area.
To contact Maurie call 0408 764 932
Without reservation we recommend the team at Pristine Water Systems to deal with cleaning water and the supply of water filtering systems. We had a high content of tannin in our water which was swiftly removed by them.
I now have less housework to do! Before the treatment I was continually cleaning the hand basins, bath and toilets because of the residue left behind and having a bath in the water was not pleasant. Now, it's a delight. We also purchased the double water filter and have been very happy with that as well.
It was such a pleasure dealing with Pristine Water Systems.
Jeanine & Clark Henderson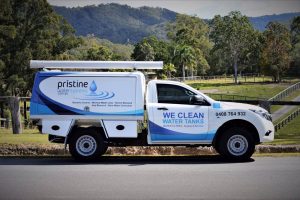 Pristine Water Systems (PWS) uses a revolutionary trademarked water tank cleaning process, QuadClean™, for cleaning and sanitising stored water supplies in a wide range of domestic, rural and commercial situations. In addition PWS supplies and services a complete range of domestic, rural and commercial filtration products. PWS also offers a water advisory service to seek solutions for many other water management issues.
QuadClean™ is suitable for a wide variety of domestic, rural and commercial situations* as well as many other applications associated with the sanitisation and treatment of stored water.
Our cleaning process removes debris from the bottom of the tank, such as leaf mould, mud, animal faeces and carcasses and these are vacuumed and pumped out without the need to empty the entire tank.
No chlorine; PWS utilises WaterCare® which is a unique water purifying product, approved under the Australian Drinking Water Guidelines. WaterCare® controls bacteria and viruses, removes nasty odors while oxygenating and rejuvenating stored water.
Water tests are carried out to determine the pH level and conductivity.
*Please note: Not every situation enables the full QuadClean™ process to be utilised. Your Pristine Water Systems Franchisee/Operator will advise on the appropriate treatment processes for each individual/site specific situation.
Service Areas
Allenview
Beaudesert
Benobble
Biddaddaba
Brinam
Boyland
Bromelton
Canungra
Cedar Grove
Cedar Vale
Cryna
Eagle Heights
Ferny Glen
Flying Fox
Gleneagle
Greenbank
Guanaba
Illbogan
Illinbah
Jimboomba
Josephville
Kagaru
Kerry
Lyons
Mount Tamborine
Mundoolun
New Beith
Nindooinbah
North Maclean
North Tamborine
O'Reilly
Sarabah
South Maclean
Stockleigh
Tabragalba
Tamborine
Undullah
Veresdale
Veresdale Scrub
Witheren
Wongawallan
Wonglepong
Woodhill
Services
Professional Water Tank Cleaning & Sanitisation
Water Filters Supply & Service
Minimal Water Loss
Bacteria & Virus Control
Tannin & Iron Removal
Bore & Spear Water Correction
Acidic Water Correction
Water Testing
Products
Replacement Water Filters
Whole of House (WOH) Filtration Systems
Ultra Violet (UV) Systems, replacement lamps, parts & service
Bore Water Correction
Calcite Filtration – Acidic Water Correction
Caravan, Campervan and Motorhome Water Filtration Systems & Replacement Filters
Caravan, Campervan and Motorhome Holding Tank Sanitiser
Spear Water Correction – Spearity
Fridge Filters
Marine Filters
Marine Holding Tank Sanitiser
Commercial & Domestic Water Filtration Systems
Counter Top & Under Sink Water Filters
Shower & Baby Bath Filters
Reverse Osmosis (RO) Systems
Rural Water Filtration Systems
Shower Filters
Water Coolers & Chillers
Water Softeners – Bore & Spear Water Correction