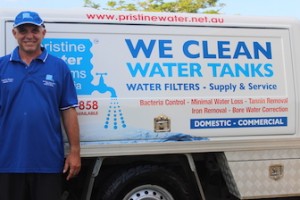 Anthony Glencross
Franchise Owner - Grafton
Anthony has lived in the Northern Rivers area his whole life and likes being able to contribute to the local community by servicing and cleaning the local schools ensuring the children and education workers have quality water available. Previously he worked as a sandblaster and industrial painter for 10 years.
Anthony enjoys working outdoors and helping customers overcome their water issues. He works closely with the Pristine Water Systems head office team, and other local franchisees. Anthony regularly draws on the experiences from the founding directors and experienced franchisees and is constantly sharing feedback and information with the group.
On weekends Anthony enjoys spending time with his family and friends. He is an avid fisherman and loves spending time up the beach fishing and relaxing.
To contact Anthony call 0427 765 111
Just a note to thank you for the help you have given over the last twelve months with the various water issues we have had.
We spent a considerable sum in having our bore put down and were extremely disappointed with the results of our bore water analysis. We had no idea there were levels of iron, lead and arsenic far exceeding Australian standards for drinking water. To find that there was a solution to this problem was an immense relief.
Thanks to the installation of the water softener and the reverse osmosis unit we now have water that is both safe and useable for our requirements. This means we have water that we can use in our pool without staining problems along with top quality drinking water. Drinking water quality is an important issue for me at this time with my health concerns.
I appreciate and value the attention to the problem and the solution. Thank you Pristine Water Systems!
Jill Spink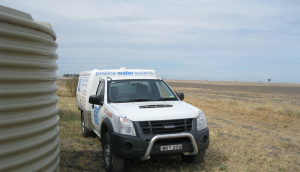 Pristine Water Systems (PWS) uses a revolutionary trademarked water tank cleaning process, QuadClean™, for cleaning and sanitising stored water supplies in a wide range of domestic, rural and commercial situations. In addition PWS supplies and services a complete range of domestic, rural and commercial filtration products. PWS also offers a water advisory service to seek solutions for many other water management issues.
QuadClean™ is suitable for a wide variety of domestic, rural and commercial situations as well as many other applications associated with the sanitisation and treatment of stored water.
Our cleaning process removes debris from the bottom of the tank, such as leaf mould, mud, animal faeces and carcasses and these are vacuumed and pumped out without the need to empty the entire tank.
No chlorine; PWS utilises WaterCare® which is a unique water purifying product, approved under the Australian Drinking Water Guidelines. WaterCare® controls bacteria and viruses, removes nasty odours while oxygenating and rejuvenating stored water.
Water tests are carried out to determine the pH level and conductivity.
*Please note: Not every situation enables the full QuadClean™ process to be utilised. Your Pristine Water Systems Franchisee/Operator will advise on the appropriate treatment processes for each individual/site specific situation.
Services
Professional Water Tank Cleaning & Sanitisation
Water Filters Supply & Service
Minimal Water Loss
Bacteria & Virus Control
Tannin & Iron Removal
Bore & Spear Water Correction
Acidic Water Correction
Water Testing
Products
Replacement Water Filters
Whole of House (WOH) Filtration Systems
Ultra Violet (UV) Systems, replacement lamps, parts & service
Bore Water Correction
Calcite Filtration – Acidic Water Correction
Caravan, Campervan and Motorhome Water Filtration Systems & Replacement Filters
Caravan, Campervan and Motorhome Holding Tank Sanitiser
Spear Water Correction – Spearity
Fridge Filters
Marine Filters
Marine Holding Tank Sanitiser
Commercial & Domestic Water Filtration Systems
Counter Top & Under Sink Water Filters
Shower & Baby Bath Filters
Reverse Osmosis (RO) Systems
Rural Water Filtration Systems
Shower Filters
Water Coolers & Chillers
Water Softeners – Bore & Spear Water Correction
Service Areas
Alumy Creek
Angourie
Ashby
Ashby Heights
Ashby Island
Balwarra Heights
Banyabba
Barcoongere
Barretts Creek
Baryulgil
Billys Creek
Blaxlands Creek
Blaxlands Flat
Bom Bom
Bookram
Braunstone
Brooms Head
Brushgrove
Buccarumbi
Calamia
Calliope
Cangai
Carnham
Carrs Creek
Carrs Island
Carrs Penninsular
Chaelundi
Chambigne
Chatsworth
Clarenza
Clifden
Clouds Creek
Coaldale
Coldstream
Collum Collum
Coombadjha
Copmanhurst
Coutts Crossing
Cowper
Crowthers Island
Dalmorton
Deep Creek
Diggers Camp
Dilkoon
Dirty Creek
Dumbudgery
Dundurrabin
Eatonsville
Eighteen Mile
Elland
Fine Flower
Fortis Creek
Freeburn Island
Gibberagee
Gilletts Ridge
Glenugie
Goodwood Island
Grafton
Grafton West
Great Marlow
Gulmarrd
Gurranang
Halfway Creek
Harwood
Heifers Station
Ilarwill
Iluka
Jackadgery
Jacky Bulbin Flat
James Creek
Junction Hill
Kangaroo Creek
Koolkhan
Kremnos
Kungala
Kyarran
Lake Hiawatha
Lanitza
Lavadia
Lawrence
Levenstrath
Lillydale
Lionsville
Lower Southgate
Maclean
Malabugilmah
McPhersons Crossing
Micalo Island
Minnie Water
Moleville Creek
Mororo
Mount Marsh
Mountain View
Mylneford
Newbold
Nymboida
Obx Creek
Palmers Channel
Palmers Island
Pillar Valley
Pulganbar
Punchbowl
Ramornie
Rushforth
Sandy Crossing
Seelands
Shannondale
Shark Creek
Sherwood
Smiths Creek
South Arm
South Grafton
Southhampton
Southgate
Stockyard Creek
Swan Creek
Taloumbi
The Freshwater
The Pinnacles
The Sandon
The Whiteman
Towallum
Townsend
Trenayr
Tucabia
Tullymorgan
Tyndale
Ulmarra
Upper Copmanhurst
Upper Fine Flower
Warragai Creek
Warregah Island
Washpool
Waterview
Waterview Heights
Wells Crossing
Whiporie
Whiteman Creek
Winegrove
Wombat Creek
Woodford Island
Woody Head
Wooli
Wooloweyah
Woombah
Yamba
Yuraygi