Lockyer Valley & Somerset Region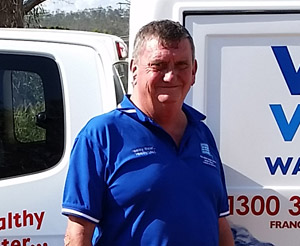 Bill Taylor
Franchise Owner - Lockyer Valley & Somerset Region
Bill has previously worked as an Engine Fitter with the Royal Australian Airforce and since this has worked as a Hygiene Operator within Qantas for over 20 years where, among many of his duties, included maintaining potable water services for aircraft. This required sanitising water tanks and replacement and maintenance of water filters.
Bill enjoys working outdoors and helping customer remedy their water issues. He works closely with the Pristine Water Systems head office team, and other SEQ franchisees. Bill regularly draws on the experiences from our founding directors and experienced franchisees and is constantly sharing feedback and information with the group.
On weekends Bill enjoys spending time with his family and friends, is an avid fisherman and loves travelling this wide country in his caravan.
To contact Bill call 0401 370 989
Pristine Water Systems (PWS) uses a revolutionary trademarked water tank cleaning process, QuadClean™, for cleaning and sanitising stored water supplies in a wide range of domestic, rural and commercial situations. In addition PWS supplies and services a complete range of domestic, rural and commercial filtration products. PWS also offers a water advisory service to seek solutions for many other water management issues.
QuadClean™ is suitable for a wide variety of domestic, rural and commercial situations* as well as many other applications associated with the sanitisation and treatment of stored water.
Our cleaning process removes debris from the bottom of the tank, such as leaf mould, mud, animal faeces and carcasses and these are vacuumed and pumped out without the need to empty the entire tank.
No chlorine; PWS utilises WaterCare® which is a unique water purifying product, approved under the Australian Drinking Water Guidelines. WaterCare® controls bacteria and viruses, removes nasty odors while oxygenating and rejuvenating stored water.
Water tests are carried out to determine the pH level and conductivity.
*Please note: Not every situation enables the full QuadClean™ process to be utilised. Your Pristine Water Systems Franchisee/Operator will advise on the appropriate treatment processes for each individual/site specific situation.
Services
Professional Water Tank Cleaning & Sanitisation
Water Filters Supply & Service
Minimal Water Loss
Bacteria & Virus Control
Tannin & Iron Removal
Bore & Spear Water Correction
Acidic Water Correction
Water Testing
Products
Replacement Water Filters
Whole of House (WOH) Filtration Systems
Ultra Violet (UV) Systems, replacement lamps, parts & service
Bore Water Correction
Calcite Filtration – Acidic Water Correction
Caravan, Campervan and Motorhome Water Filtration Systems & Replacement Filters
Caravan, Campervan and Motorhome Holding Tank Sanitiser
Spear Water Correction – Spearity
Fridge Filters
Marine Filters
Marine Holding Tank Sanitiser
Commercial & Domestic Water Filtration Systems
Counter Top & Under Sink Water Filters
Shower & Baby Bath Filters
Reverse Osmosis (RO) Systems
Rural Water Filtration Systems
Shower Filters
Water Coolers & Chillers
Water Softeners – Bore & Spear Water Correction
Service Areas
Adare
Amberley
Ashwell
Avoca Vale
Ballard
Banks Creek
Barellan Point
Benarkin
Benarkin North
Biarra
Black Duck Creek
Blackbutt
Blackbutt North
Blackbutt South
Blacksoil
Blenheim
Borallon
Braemore
Brassall
Brightview
Bryden
Buaraba
Caboonbah
Caffey
Carpendale
Cherry Creek
Churchable
Chuwar
Clarendon
Coal Creek
Colinton
College View
Cooeeimbardi
Coolana
Coominya
Cressbrook
Crossdale
Crowley Vale
Dundas
East Haldon
Egypt
England Creek
Esk
Eskdale
Fairney View
Fernvale
Flagstone Creek
Fordsdale
Forest Hill
Fulham
Gatton
Glamorgan Vale
Glen Cairn
Glen Esk
Glenore Grove
Googa Creek
Grandchester
Grantham
Gregors Creek
Haigslea
Harlin
Hatton Vale
Helidon
Helidon Spa
Hirtstglen
Ingoldsby
Iredale
Ironbark
Ivory Creek
Junction View
Karalee
Karana Downs
Kensington Grove
Kentville
Kholo
Laidley
Laidley Creek West
Laidley Heights
Laidley North
Laidley South
Lake Clarendon
Lake Manchester
Lanefield
Lark Hill
Lawes
Lefthand Branch
Lilydale
Linville
Lockrose
Lockyer
Lockyer Waters
Lower Cressbrook
Lower Mount Walker
Lower Tenthill
Lowood
Lynford
Ma Ma Creek
Marburg
Merryvale
Minden
Moombra
Moore
Moores Pocket
Morton Vale
Mount Beppo
Mount Berryman
Mount Byron
Mount Crosby
Mount Hallen
Mount Marrow
Mount Mort
Mount Sylvia
Mount Tarampa
Mount Walker West
Mount Whitestone
Muirlea
Mulgowie
Murphys Creek
Murrumba
North Ipswich
North Tivoli
Nukku
Ottaba
Patrick Estate
Pine Mountain
Placid Hills
Plainland
Postmans Ridge
Prenzlau
Redbank Creek
Regency Downs
Ringwood
Rockside
Ropeley
Rosewood
Scrub Creek
Seventeen Mile
Somerset Dam
Spring Creek
Summerholm
Tallegalla
Tarampa
Taromeo
Teelah
Thagoona
The Bluff
Thornton
Tivoli
Toogoolawah
Townson
Upper Flagstone
Upper Lockyer
Upper Tenthill
Veradilla
Vernor
Vinegar Hill
Walloon
Wanora
West Haldon
White Mountain
Winwill
Withcott
Wivanhoe Hill
Wivanhoe Pocket
Woodbine
Woolshed
White Mountian
Yimbun