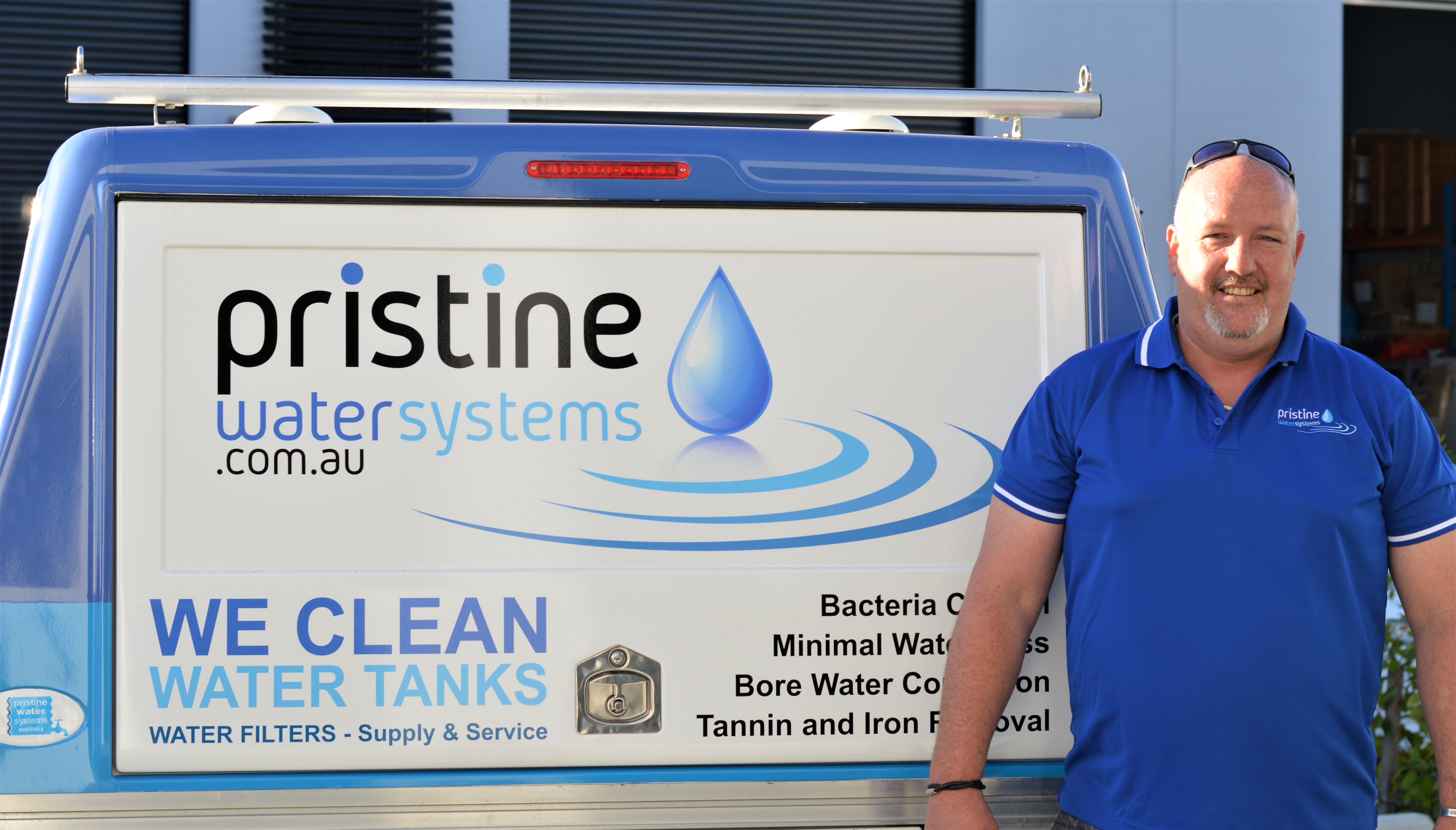 Adam Mowbray
Operator - Mid North Coast, NSW
Adam is presently care-taking the Mid North Coast NSW region to ensure Pristine Water Systems customers are serviced whilst a permanent franchisee in the region is found.
Adam joined the Pristine Water Systems family with many years experience as a business owner.
Having owned/operated a Childcare Centre and Jims Mowing Service franchise, Adam knows how to help his customers and provide exceptional service.
To contact Adam call 0402 341 051
Great job, friendly service. Our water has never tasted/looked better. Will definitely be using your services again.
Thank you!
Amie
Great job, cool guy, very easy to deal with. We are really happy with the results.
Thank you!
Rob
Pristine Water Systems (PWS) uses a revolutionary trademarked water tank cleaning process, QuadClean™, for cleaning and sanitising stored water supplies in a wide range of domestic, rural and commercial situations. In addition PWS supplies and services a complete range of domestic, rural and commercial filtration products. PWS also offers a water advisory service to seek solutions for many other water management issues.
QuadClean™ is suitable for a wide variety of domestic, rural and commercial situations as well as many other applications associated with the sanitisation and treatment of stored water.
Our cleaning process removes debris from the bottom of the tank, such as leaf mould, mud, animal faeces and carcasses and these are vacuumed and pumped out without the need to empty the entire tank.
No chlorine; PWS utilises WaterCare® which is a unique water purifying product, approved under the Australian Drinking Water Guidelines. WaterCare® controls bacteria and viruses, removes nasty odours while oxygenating and rejuvenating stored water.
Water tests are carried out to determine the pH level and conductivity.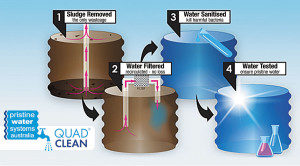 *Please note: Not every situation enables the full QuadClean™ process to be utilised. Your Pristine Water Systems Franchisee/Operator will advise on the appropriate treatment processes for each individual/site specific situation.
Services
Professional Water Tank Cleaning & Sanitisation
Water Filters Supply & Service
Minimal Water Loss
Bacteria & Virus Control
Tannin & Iron Removal
Bore & Spear Water Correction
Acidic Water Correction
Water Testing
Products
Replacement Water Filters
Whole of House (WOH) Filtration Systems
Ultra Violet (UV) Systems, replacement lamps, parts & service
Bore Water Correction
Calcite Filtration – Acidic Water Correction
Caravan, Campervan and Motorhome Water Filtration Systems & Replacement Filters
Caravan, Campervan and Motorhome Holding Tank Sanitiser
Spear Water Correction – Spearity
Fridge Filters
Marine Filters
Marine Holding Tank Sanitiser
Commercial & Domestic Water Filtration Systems
Counter Top & Under Sink Water Filters
Shower & Baby Bath Filters
Reverse Osmosis (RO) Systems
Rural Water Filtration Systems
Shower Filters
Water Coolers & Chillers
Water Softeners – Bore & Spear Water Correction
Service Areas
Aldavilla
Allgomera
Arakoon
Bagnoo
Bago
Ballengarra
Banda Banda
Barraganyatti
Batar Creek
Beechwood
Bellangry
Bellbrook
Bellimbopinni
Belmore River
Birdwood
Black Creek
Blackmans Point
Bobs  Creek
Bonny Hills
Bril Bril
Brinerville
Brombin
Burnt Bridge
Byabarra
Cairncross
Camden Head
Carrai
Clybucca
Collombatti
Comara
Coopernook
Coralville
Corangula
Crescent Head
Crosslands
Crowdy Bay NP
Crowdy Head
Deauville
Debenham
Deep Creek
Diamond Head
Dondingalong
Doyles River
Dunbogan
East Kempsey
Ellenborough
Eungai Creek
Eungai Rail
Euroka
Fernbank Creek
Fishermans Reach
Flynns Beach
Forbes River
Frazers Creek
Frederickton
Gearys Flat
Gladstone
Grants Beach
Grassy Head
Greenhill
Gum Scrub
Hacks Ferry
Hampden Hall
Hannam Vale
Harrington
Hartys Plain
Hat Head
Herons Creek
Hickeys Creek
Hollisdale
Huntingdon
Hyndmans Creek
Jerseyville
Johns River
Jolly Nose
Kempsey
Kendall
Kerewong
Kew
Kinchela
Kindee
King Creek
Kippara
Kundabung
Lake Innes
Lakewood
Langley Vale
Laurieton
Lighthouse Beach
Limeburnders Creek
Logan Crossing
Long Flat
Lorne
Lower Creek
Lower Pappinbarra
Marlo Merrican
Middle Brother
Millbank
Mooneba
Moorland
Moparrabah
Mortons Creek
Motto
Mount Seaview
Mungay Creek
North Brother
North Haven
North Shore
Old Station
Pappinbarra
Pembrooke
Pipeclay
Pola Creek
Port Maquarie
Rainbow Beach
Rawdon Island
Redbank
Riverside
Rollands Plains
Rosewood
Rossglen
Sancrox
Settlement City
Seven Oaks
Sherwood
Skillion Flat
Smithtown
South Kempsey
South West Rocks
Stewarts River
Stuarts Point
Summer Island
Swans Crossing
Tamban
Telegraph Point
Temagog
The Hatch
Thrumster
Toms Creek
Toorooka
Turners Flat
Upper Pappinbarra
Upper Rollands Plains
Upsalls Creek
Verges Creek
Waitui
Wauchope
Werrikimbe
West Haven
West Kempsey
Willawarrin
Willi Willi
Wittitrin
Yarrahapinni
Yarras
Yarravel
Yessabah
Yippin Creek