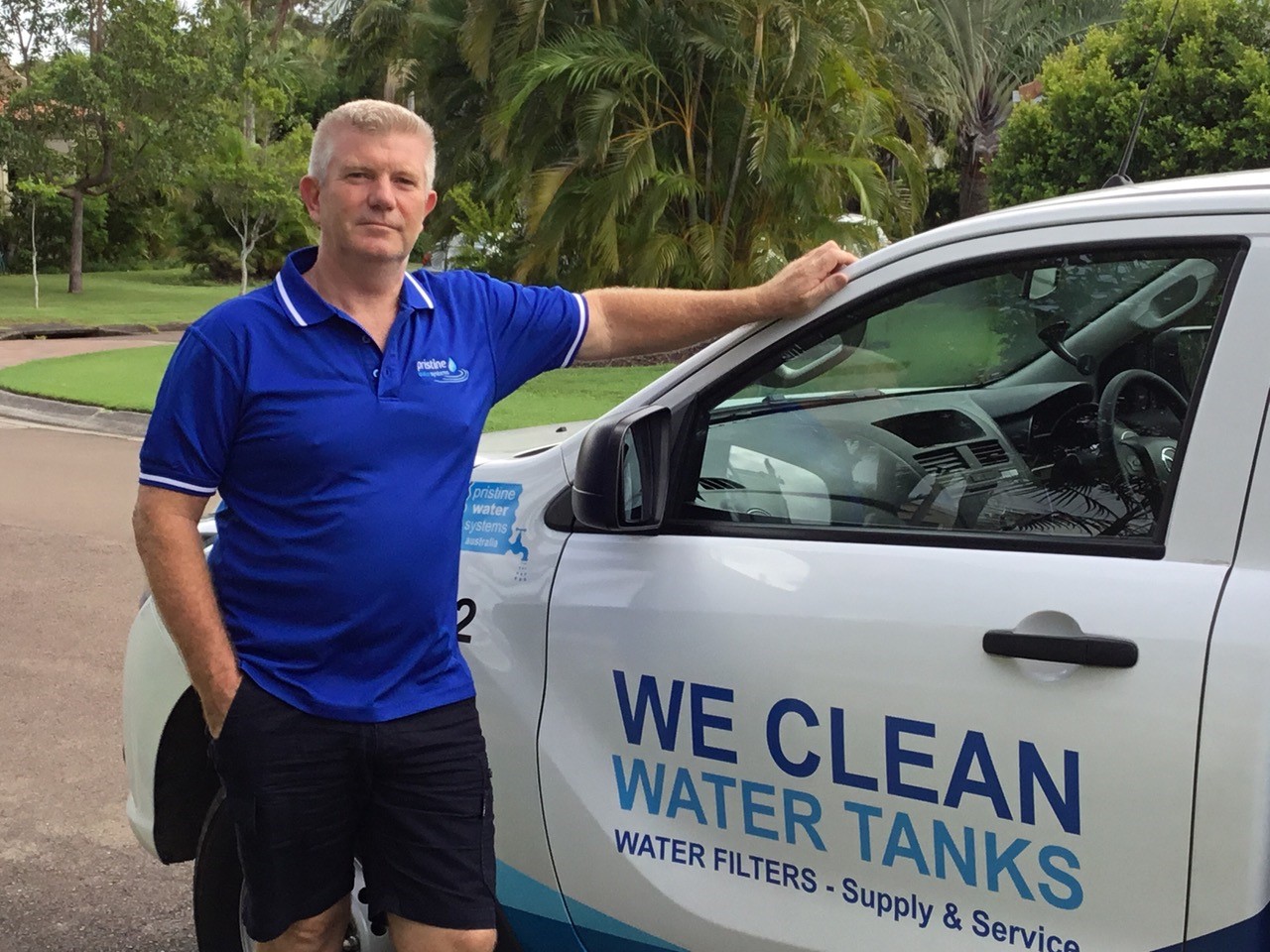 Steve McDougall
Franchisee - Noosa / Cooroy
Steve lives locally in Noosaville and has family and friends who live on stored water supplies. So, he can fully appreciate all the benefits, as well as the potential hazards, associated with living on stored water.
Steve enjoys bushwalking, hiking and four-wheel driving in his spare time.
To contact Steve call 0401 025 072
Thank you for the excellent work in cleaning my two water tanks. One of the joys of my life is my own water supply.
The name of your company is very apt – as pristine is the nature of my water now. Although over the years I had thought it would be prudent to have the tanks cleaned, I had been apprehensive both about losing any of the water supply and having my water in any way contaminated by chemicals, either by the cleaning process or having to purchase extra water. When my husband organised for you to clean the tanks I still had the same apprehensions.
You will remember me following you around and asking lots of questions about the process. Well, I am happy to say that I thought your process was excellent. It is unique and far superior to other methods of water treatment that I had investigated.
You were very efficient and more than happy to answer any questions. I saw the residual sludge which was removed from the bottom of tanks and watched the aerating of the water. An added bonus was the minimal water loss. I now feel more confident in the quality of water of our tanks and would have no hesitation in recommending Pristine Water Systems to anyone with tanks.
Helen
Pristine Water Systems (PWS) uses a revolutionary trademarked water tank cleaning process, QuadClean™, for cleaning and sanitising stored water supplies in a wide range of domestic, rural and commercial situations. In addition PWS supplies and services a complete range of domestic, rural and commercial filtration products. PWS also offers a water advisory service to seek solutions for many other water management issues.
QuadClean™ is suitable for a wide variety of domestic, rural and commercial situations as well as many other applications associated with the sanitisation and treatment of stored water.
Our cleaning process removes debris from the bottom of the tank, such as leaf mould, mud, animal faeces and carcasses and these are vacuumed and pumped out without the need to empty the entire tank.
No chlorine; PWS utilises WaterCare® which is a unique water purifying product, approved under the Australian Drinking Water Guidelines. WaterCare® controls bacteria and viruses, removes nasty odours while oxygenating and rejuvenating stored water.
Water tests are carried out to determine the pH level and conductivity.
*Please note: Not every situation enables the full QuadClean™ process to be utilised. Your Pristine Water Systems Franchisee/Operator will advise on the appropriate treatment processes for each individual/site specific situation.
Service Areas
Black Mountain
Boreen Point
Castaways Beach
Como
Cooran
Cooroibah
Cooroy
Cooroy Mountain
Cootharaba
Doonan
Eerwah Vale
Eumundi
Federal
Kin Kin
Lake Macdonald
Marcus Beach
Noosa Heads
Noosa North Shore
Noosaville
Peregian Beach
Peregian Beach South
Peregian Springs
Pinbarren
Pomona
Ridgewood
Ringtail Creek
Sunrise Beach
Sunshine Beach
Teewah
Tewantin
Tinbeerwah
Verrierdale
Weyba Downs.
Services
Professional Water Tank Cleaning & Sanitisation
Water Filters Supply & Service
Minimal Water Loss
Bacteria & Virus Control
Tannin & Iron Removal
Bore & Spear Water Correction
Acidic Water Correction
Water Testing
Replacement Water Filters
Whole of House (WOH) Filtration Systems
Ultra Violet (UV) Systems, replacement lamps, parts & service
Bore Water Correction
Calcite Filtration – Acidic Water Correction
Caravan, Campervan and Motorhome Water Filtration Systems & Replacement Filters
Caravan, Campervan and Motorhome Holding Tank Sanitiser
Spear Water Correction – Spearity
Fridge Filters
Marine Filters
Marine Holding Tank Sanitiser
Commercial & Domestic Water Filtration Systems
Counter Top & Under Sink Water Filters
Shower & Baby Bath Filters
Reverse Osmosis (RO) Systems
Rural Water Filtration Systems
Shower Filters
Water Coolers & Chillers
Water Softeners – Bore & Spear Water Correction