Pristine Water Systems Perth
We Clean Water Tanks
Water Filters Supply & Service
Water Quality Testing / Analyse
Pristine Water Systems has been in operation since 2003, becoming Australia's premier water tank cleaning franchise. As an industry leader we are also able to assist with expert advice when choosing and servicing the right filtration/ultraviolet sterilisation system for your family.
Our franchisee's/operators are expertly trained to solve your water quality issues. Symptoms may include:
Dirty or Discoloured Water: Sludge or Organic matter build-up.

Bad Smelling Water: Animal droppings or carcasses.

Bad Tasting Water: Is a sign that potentially your water may be unhealthy.

Stomach Complaints: Water disease, bacteria or cysts causing illness.

Water Staining: Ceramics, Porcelain Walls, Fences
Solutions may include:
Regular Water Tank Cleaning Service.

All year round water filtration:

Ultraviolet Sterilisation + Filtration

Whole of House systems;

Under sink system;

Countertop;

Reverse Osmosis

Water Correction: Spear/Bore Water Softening; or pH correction System

Tannin removal
Pristine Water Systems uses our trademarked Quadclean™ process to ensure your water tank is sanitised, water is cleaned, filtered and oxygenated, providing you with the absolute best quality water for your household.
We come to you, operating hours are by appointment. Contact us via phone or through the contact form and we will get back to you as soon as possible.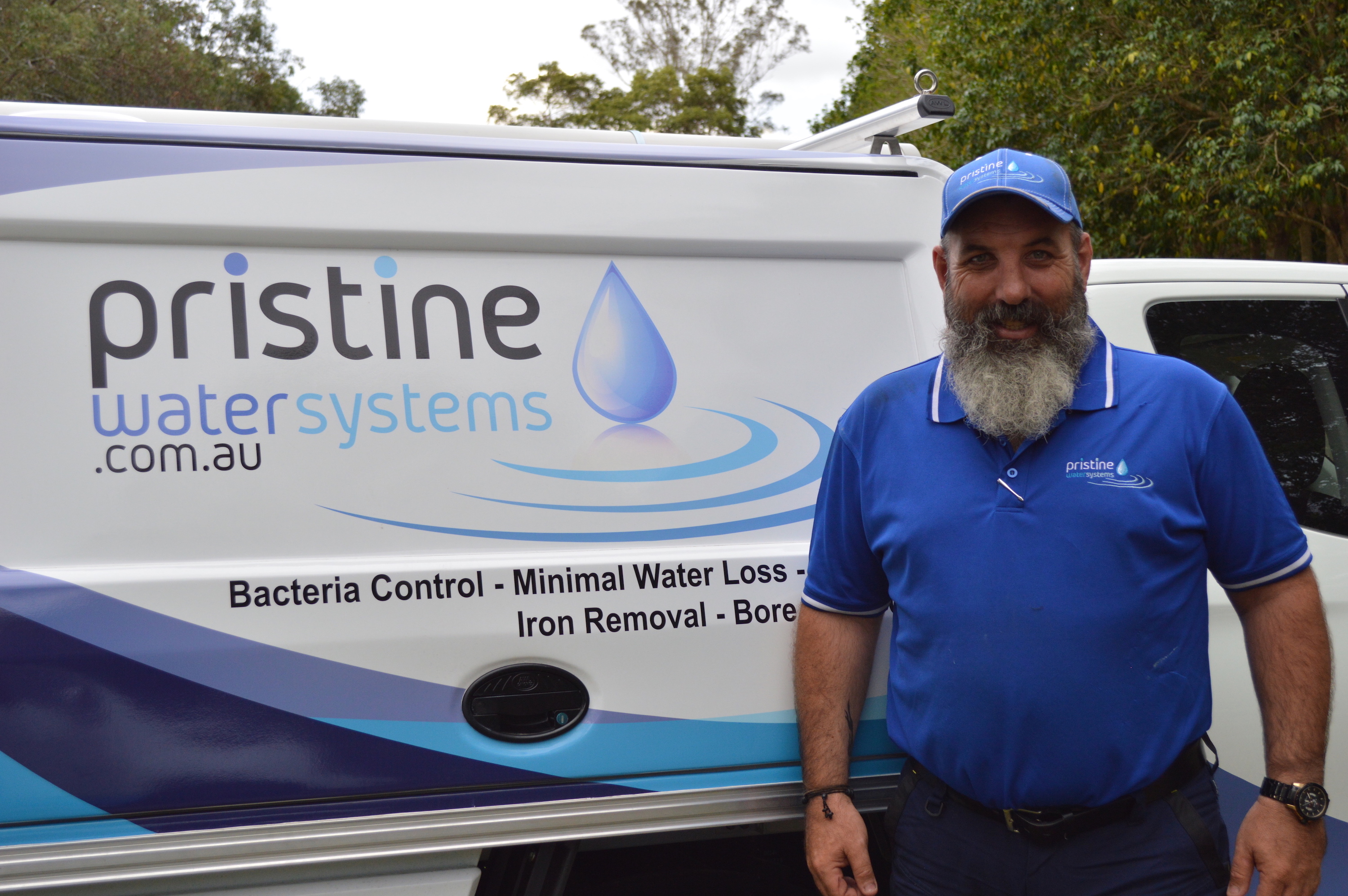 Craig Kerns
Franchisee
Having grown up in the Wheatbelt of Western Australia, Craig has a personal understanding of the needs of the local rural sector. With a background in Account Management , through varying industries, and working directly with customers, Craig is passionate in ensuring his clients' needs are met to the highest standards.
"I believe a key to my success is exceeding expectation and over delivering on promises, coupled with timely and accurate industry advice. I prides himself on excellent customer service and getting the best results for my customers"
Craig is the owner operator of Pristine Water Systems Perth, providing an essential service to ensure families in Western Australia have pure pristine drinking water.
Craig enjoys spending time with his family, camping, kite surfing, fishing and anything to do with sport.
Follow us on Facebook
Please contact with your enquiry
Our Products / Services
Pristine Water Systems are specialists in water management systems. From water testing, professional water tank cleaning and sanitisation services, through to water filtration systems to solve your water problems.
Pristine Water Systems (PWS) uses a revolutionary trademarked water tank cleaning process, QuadClean™, for cleaning and sanitising stored water supplies in a wide range of domestic, rural and commercial situations. In addition PWS supplies and services a complete range of domestic, rural and commercial filtration products. PWS also offers a water advisory service to seek solutions for many other water management issues.
QuadClean™ is suitable for a wide variety of domestic, rural and commercial situations as well as many other applications associated with the sanitisation and treatment of stored water.
Our cleaning process removes debris from the bottom of the tank, such as leaf mould, mud, animal faeces and carcasses and these are vacuumed and pumped out without the need to empty the entire tank.
No chlorine; PWS utilises WaterCare® which is a unique water purifying product, approved under the Australian Drinking Water Guidelines. WaterCare® controls bacteria and viruses, removes nasty odours while oxygenating and rejuvenating stored water.
Water tests are carried out to determine the pH level and conductivity.
*Please note: Not every situation enables the full QuadClean™ process to be utilised. Your Pristine Water Systems Franchisee/Operator will advise on the appropriate treatment processes for each individual/site specific situation.
Alkimos
Avon Valley National Park
Bailup
Bakers Hill
Bambun
Banksia Grove
Beechina
Beermullah
Bickley
Bindoon
Bindoon Training Area
Boonanarring
Breera
Breton Bay
Bullsbrook
Butler
Caraban
Carabooda
Carmel
Carramar
Chidlow
Chittering
Clarkson
Coonabidgee
Copley
Cowalla
Cullalla
Darlington
Dewars Pool
Eglinton
Gabbadah
Gidgegannup
Gingin
Ginginup
Glen Forrest
Gooseberry Hill
Gorrie
Granville
Guilderton
Hacketts Gully
Hovea
Jindalee
Julimar
Kalamunda
Karakin
Lancelin
Ledge Point
Lennard Brook
Lesmurdie
Lower Chittering
Mahogany Creek
Malmalling
Merriwa
Mindarie
Mindarra
Mooliabeenee
Moondah
Moondyne
Moore River National Park
Morangup
Mount Helena
Muchea
Muckenburra
Mundaring
Neerabup
Neergabby
Nowergup
Orange Springs
Parkerville
Paulls Valley
Pickering Brook
Piesse Brook
Pinjar
Quinns Rocks
Red Gully
Reservoir
Ridgewood
Sawyers Valley
Seabird
Stoneville
Tamala Park
The Lakes
Two Rocks
Walliston
Walyunga National Park
Wanerie
Wannamal
Wilbinga
Woodridge
Wooroloo
Woottating
Wundowie
Yanchep
Yeal