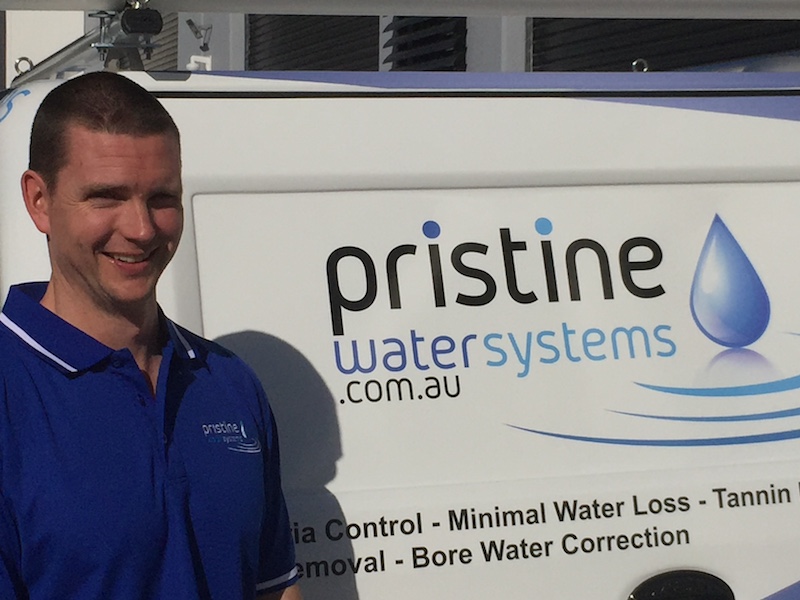 Jono Glover
Franchise - Riverina
Jono joined the Pristine Water Systems team after many months researching and investigating the Riverina (Wagga Wagga) area. Realising that there was a distinct need for tank cleaning and filtration services, Jono jumped at the chance to bring Pristine Water Systems to south/central NSW.
Although coming from the healthcare industry, Jono has many family and friends who live on stored water supplies, so can fully appreciate the benefits of providing clean drinking water, and the associated hazards to those who live on stored water. Jono lives locally in the Riverina region, and grew up around Wagga Wagga.
Jono is down to earth and loves meeting with people and is committed to his customers' needs.  He prides himself on excellent customer service and getting the best results for his clients.
He enjoys spending time with his family and getting out water skiing on the weekends.
To contact Jono call 0408 840 165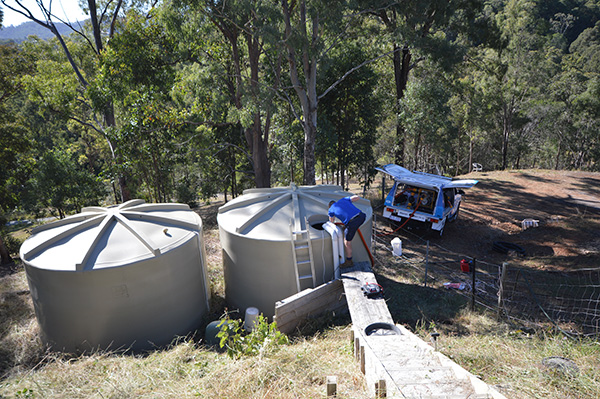 Pristine Water Systems (PWS) uses a revolutionary trademarked water tank cleaning process, QuadClean™, for cleaning and sanitising stored water supplies in a wide range of domestic, rural and commercial situations. In addition PWS supplies and services a complete range of domestic, rural and commercial filtration products. PWS also offers a water advisory service to seek solutions for many other water management issues.
QuadClean™ is suitable for a wide variety of domestic, rural and commercial situations as well as many other applications associated with the sanitisation and treatment of stored water.
Our cleaning process removes debris from the bottom of the tank, such as leaf mould, mud, animal faeces and carcasses and these are vacuumed and pumped out without the need to empty the entire tank.
No chlorine; PWS utilises WaterCare® which is a unique water purifying product, approved under the Australian Drinking Water Guidelines. WaterCare® controls bacteria and viruses, removes nasty odours while oxygenating and rejuvenating stored water.
Water tests are carried out to determine the pH level and conductivity.
*Please note: Not every situation enables the full QuadClean™ process to be utilised. Your Pristine Water Systems Franchisee/Operator will advise on the appropriate treatment processes for each individual/site specific situation.
Services
Professional Water Tank Cleaning & Sanitisation
Water Filters Supply & Service
Minimal Water Loss
Bacteria & Virus Control
Tannin & Iron Removal
Bore & Spear Water Correction
Acidic Water Correction
Water Testing
Products
Replacement Water Filters
Whole of House (WOH) Filtration Systems
Ultra Violet (UV) Systems, replacement lamps, parts & service
Bore Water Correction
Calcite Filtration – Acidic Water Correction
Caravan, Campervan and Motorhome Water Filtration Systems & Replacement Filters
Caravan, Campervan and Motorhome Holding Tank Sanitiser
Spear Water Correction – Spearity
Fridge Filters
Marine Filters
Marine Holding Tank Sanitiser
Commercial & Domestic Water Filtration Systems
Counter Top & Under Sink Water Filters
Shower & Baby Bath Filters
Reverse Osmosis (RO) Systems
Rural Water Filtration Systems
Shower Filters
Water Coolers & Chillers
Water Softeners – Bore & Spear Water Correction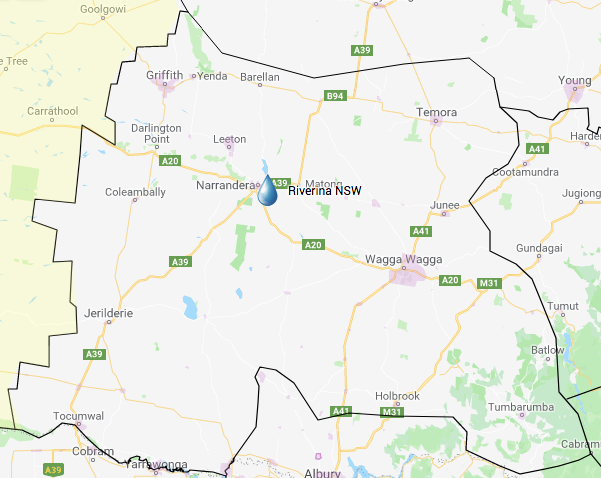 Service Areas
Adelong
Alfredtown
Alma Park
Aratula
Ardlethan
Argoon
Ariah Park
Ashmont
Balldale
Bangadang
Barellan
Barooga
Batlow
Beckom
Bectric
Beelbangera
Belfrayden
Benerembah
Berrigan
Berry Jerry
Bidgeemia
Big Springs
Bilbul
Binya
Black Creek
Blighty
Bomen
Book Book
Boomanoomana
Boorooma
Borambola
Boree Creek
Bourkelands
Brobenah
Brookdale
Brookong
Brucedale
Bulgary
Bundure
Burra
Burrandana
Califat
Carabost
Cartwrights Hill
Coleambally
Colinroobie
Collendina
Collingullie
Combaning
Cookardinia
Coolamon
Cooleys Creek
Coppabella
Corbie Hill
Coreen
Corobimilla
Corowa
Courabyra
Cowabbie
Cudgel
Culcairn
Cullivel
Currawarna
Darlington Point
Darlow
Daysdale
Dhulura
Dirnaseer
Downside
East Wagga Wagga
Ellerslie
Erin Vale
Estella
Euberta
Eunanoreenya
Euroley
Eurongilly
Fargunyah
Finley
Forest Hill
Four Corners
French Park
Gala Vale
Galore
Ganmain
Gelston Park
Gidginbung
Gillenbah
Glenfield Park
Glenroy
Gobbagombalin
Gogeldrie
Goombargana
Grahamstown
Green Hills
Gregadoo
Griffith
Griffith East
Grogan
Grong Grong
Gumly Gumly
Hanwood
Harefield
Henty
Hillgrove
Holbrook
Hopefield
Humula
Jerilderie
Junee
Junee Reefs
Kamarah
Kapooka
Kooba
Kooringal
Kunama
Kyeamba
Ladysmith
Lake Albert
Lake Wyangan
Lalalty
Landervale
Lankeys Creek
Laurel Hill
Leeton
Little Billabong
Lloyd
Lockhart
Logie Brae
Lower Bago
Lowesdale
Mabins Well
Mangoplah
Mannus
Maragle
Marinna
Marjimmy
Marrar
Matong
Maxwell
Merungle Hill
Methul
Milbrulong
Mimosa
Mirrool
Moombooldool
Moorong
Morangarell
Morundah
Morven
Mount Adrah
Mount Austin
Mount Horeb
Mulwala
Mundarlo
Munderoo
Munyabla
Murrami
Murrulebale
Myall Park
Myrtle Park
Narraburra
Narrandera
Nericon
North Wagga Wagga
Nurenmerenmong
Nyora
Oaklands
Oberne Creek
Old Junee
Osborne
Oura
Paddys River
Pine Lodge
Pleasant Hills
Pucawan
Pulletop
Quandary
Rand
Rannock
Redlands
Reefton
Rennie
Ringwood
Rosewood
Rowan
Ryan
San Isidore
Sandigo
Sandy Gully
Sanger
Savernake
Sebastopol
Sharps Creek
Springdale
Springvale
Stanbridge
Stockinbingal
Tara
Taradale
Tarcutta
Tatton
Temora
Tharbogang
The Gap
The Rock
Tocumwal
Tolland
Tooma
Tootool
Trungley Hall
Tumbarumba
Tumblong
Tuppal
Turvey Park
Urana
Urangeline
Urangeline East
Uranquinty
Wagga Wagga
Walbundrie
Walla Walla
Wallacetown
Walleroobie
Wantabadgery
Wantagong
Wantiool
Warburn
Warrawidgee
Westdale
Westwood
Whitton
Widgelli
Willbriggie
Willigobung
Wondalga
Wrathall
Yanco
Yarara
Yarragundry
Yathella
Yaven Creek
Yenda
Yerong Creek
Yoogali