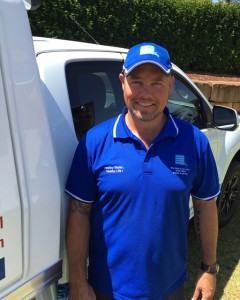 Brad Pike
Franchise Owner - Toowoomba North and South
Brad commenced with the Pristine Water Systems team, after many successful years in the textiles and dam lining industry it was time to make the change to an industry that will really benefit the community.
Brad is a Toowoomba local and is passionate about keeping the local communities' water safe and healthy.  He is a down to earth country bloke who loves chatting with people and is committed to his customers needs.  He prides himself on excellent customer service and getting the best results for his customers.
Brad enjoys a healthy lifestyle that involves water skiing, camping and spending time with his young family.
To contact Brad call 0429 554 496
Big thanks to Brad for being prompt, reliable and doing a great job!
Highly recommend his service!
Zoe Bryant
Thanks Brad for a great job today.
My tank was extremely dirty and the algae was horrible. I am so glad I got you to do the job. I highly recommend your work and your pleasant manner.
Nanette Kucks
Pristine Water Systems (PWS) uses a revolutionary trademarked water tank cleaning process, QuadClean™, for cleaning and sanitising stored water supplies in a wide range of domestic, rural and commercial situations. In addition PWS supplies and services a complete range of domestic, rural and commercial filtration products. PWS also offers a water advisory service to seek solutions for many other water management issues.
QuadClean™ is suitable for a wide variety of domestic, rural and commercial situations* as well as many other applications associated with the sanitisation and treatment of stored water.
Our cleaning process removes debris from the bottom of the tank, such as leaf mould, mud, animal faeces and carcasses and these are vacuumed and pumped out without the need to empty the entire tank.
No chlorine; PWS utilises WaterCare® which is a unique water purifying product, approved under the Australian Drinking Water Guidelines. WaterCare® controls bacteria and viruses, removes nasty odors while oxygenating and rejuvenating stored water.
Water tests are carried out to determine the pH level and conductivity.
*Please note: Not every situation enables the full QuadClean™ process to be utilised. Your Pristine Water Systems Franchisee/Operator will advise on the appropriate treatment processes for each individual/site specific situation.
Service Areas
Acland
Alice Creek
Ascot
Biddeston
Bowenville
Bunya Mountains
Chinchillla
Cooyar
Cotswold Hills
Crows Nest
Dalby
East Toowoomba
Ellesmere
Emu Creek
Gowrie Junction
Highfields
Ironpot
Jandowae
Kingaroy
Kingsthorpe
Nanango
North Toowoomba
Oakey
Prince Henry Heights
Ravensbourne
Tara
The Bluff
Wyalla
Yarraman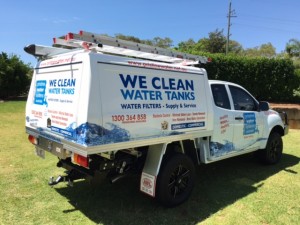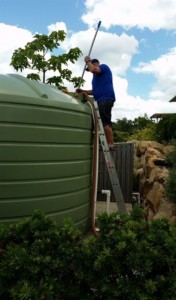 Services
Professional Water Tank Cleaning & Sanitisation
Water Filters Supply & Service
Minimal Water Loss
Bacteria & Virus Control
Tannin & Iron Removal
Bore & Spear Water Correction
Acidic Water Correction
Water Testing
Products
Replacement Water Filters
Whole of House (WOH) Filtration Systems
Ultra Violet (UV) Systems, replacement lamps, parts & service
Bore Water Correction
Calcite Filtration – Acidic Water Correction
Caravan, Campervan and Motorhome Water Filtration Systems & Replacement Filters
Caravan, Campervan and Motorhome Holding Tank Sanitiser
Spear Water Correction – Spearity
Fridge Filters
Marine Filters
Marine Holding Tank Sanitiser
Commercial & Domestic Water Filtration Systems
Counter Top & Under Sink Water Filters
Shower & Baby Bath Filters
Reverse Osmosis (RO) Systems
Rural Water Filtration Systems
Shower Filters
Water Coolers & Chillers
Water Softeners – Bore & Spear Water Correction