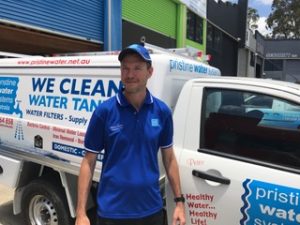 Peter Boyce
Franchise Owner - Tweed / Byron Bay, NSW
Peter joined the Pristine Water Systems team after many successful years in the Voice Data industry as an IT Service Technician. When it was time to make a change, Peter decided to join an industry that he believes will benefit the local community.
Peter lives locally in the Northern River Region. He has family and friends who live on stored water supplies, so he can fully appreciate all the benefits as well as the potential hazards associated with living on stored water.
Peter is down to earth and loves chatting with people and is committed to his customers' needs.  He prides himself on excellent customer service and getting the best results for his customers.
Peter enjoys a healthy lifestyle that involves running, riding, camping and spending time with his family.
To contact Peter call 0487 777 247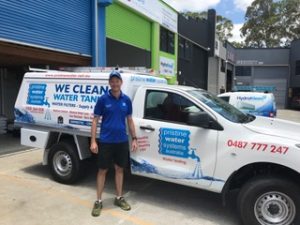 Pristine Water Systems (PWS) uses a revolutionary trademarked water tank cleaning process, QuadClean™, for cleaning and sanitising stored water supplies in a wide range of domestic, rural and commercial situations. In addition PWS supplies and services a complete range of domestic, rural and commercial filtration products. PWS also offers a water advisory service to seek solutions for many other water management issues.
QuadClean™ is suitable for a wide variety of domestic, rural and commercial situations as well as many other applications associated with the sanitisation and treatment of stored water.
Our cleaning process removes debris from the bottom of the tank, such as leaf mould, mud, animal faeces and carcasses and these are vacuumed and pumped out without the need to empty the entire tank.
No chlorine; PWS utilises WaterCare® which is a unique water purifying product, approved under the Australian Drinking Water Guidelines. WaterCare® controls bacteria and viruses, removes nasty odours while oxygenating and rejuvenating stored water.
Water tests are carried out to determine the pH level and conductivity.
*Please note: Not every situation enables the full QuadClean™ process to be utilised. Your Pristine Water Systems Franchisee/Operator will advise on the appropriate treatment processes for each individual/site specific situation.
Services
Professional Water Tank Cleaning & Sanitisation
Water Filters Supply & Service
Minimal Water Loss
Bacteria & Virus Control
Tannin & Iron Removal
Bore & Spear Water Correction
Acidic Water Correction
Water Testing
Replacement Water Filters
Whole of House (WOH) Filtration Systems
Ultra Violet (UV) Systems, replacement lamps, parts & service
Bore Water Correction
Calcite Filtration – Acidic Water Correction
Caravan, Campervan and Motorhome Water Filtration Systems & Replacement Filters
Caravan, Campervan and Motorhome Holding Tank Sanitiser
Spear Water Correction – Spearity
Fridge Filters
Marine Filters
Marine Holding Tank Sanitiser
Commercial & Domestic Water Filtration Systems
Counter Top & Under Sink Water Filters
Shower & Baby Bath Filters
Reverse Osmosis (RO) Systems
Rural Water Filtration Systems
Shower Filters
Water Coolers & Chillers
Water Softeners – Bore & Spear Water Correction
Service Areas
Back Creek
Bangalow
Banora Point
Bilambil
Bilambil Heights
Billinudgel
Binna Burra
Bogangar
Bray Park
Brays Creek
Broken Head
Brooklet
Brunswick Heads
Bungalora
Burringbar
Byangum
Byron Bay
Byrrill Creek
Cabarita Beach
Carool
Casuarina
Cedar Creek
Chillingham
Chinderah
Chowan Creek
Clothiers Creek
Cobaki
Cobaki Lakes
Commissioners Creek
Condong
Coopers Shoot
Coorabell
Crabbes Creek
Crystal Creek
Cudgen
Cudgera Creek
Doon Doon
Dulguigan
Dum Dum
Dunbible
Dungay
Duranbah
Duroby
Eungella
Eviron
Ewingdale
Farrants Hill
Fernleigh
Fernvale
Fingal Head
Glengarrie
Glen Warning
Goonengerry
Hastings Point
Hayters Hill
Hopkins Creek
Huonbrook
Kielvale
Kings Forest
Kingscliff
Knockrow
Koonyum Range
Kunghur
Kunghur Creek
Kynnumboon
Limpinwood
Main Arm
McLeods Shoot
Mebbin
Middle Pocket
Midginbil
Montecollum
Mooball
Mount Burrell
Mount Warning
Mullumbimby
Mullumbimby Creek
Murwillumbah
Murwillumbah South
Myocum
Nashua
New Brighton
Newrybar
Nobbys Creek
North Arm
North Tumbulgum
Numinbah
Nunderi
Ocean Shores
Palmvale
Palmwoods
Piggabeen
Possum Creek
Pottsville
Pottsville Beach
Pumpenbil
Reserve Creek
Round Mountain
Rowlands Creek
Skinners Shoot
Sleepy Hollow
Smiths Creek
South Golden Beach
South Murwillumbah
St Helena
Stokers Siding
Stotts Creek
Suffolk Park
Talofa
Tanglewood
Terragon
Terranora
The Pocket
Tomewin
Tumbulgum
Tweed Heads
Tweed Heads South
Tweed Heads West
Tyagarah
Tyalgum
Tyalgum Creek
Tygalgah
Uki
Upper Barringbar
Upper Coopers Creek
Upper Crystal Creek
Upper Duroby
Upper Main Arm
Upper Wilsons Creek
Urliup
Wanganui
Wardrop Valley
Wilsons Creek
Wooyung
Yelgun
Zara