PWS Yorke Mid North
We Clean Water Tanks
Water Filter Supply & Service
Water Quality Testing & Analysis
Pristine Water Systems are the experts in water purification. We clean and sterilise water tanks, supply and service water filtration systems, and provide water testing and analysis.
Don't think your water tanks are in desperate need of cleaning?
Do you have any of these water problems?
Dirty or Discoloured Water
Bad Smelling Water
Bad Tasting Water
Stomach Complaints
Water Staining on Ceramics, Porcelain Walls or Fences
The Australian Drinking Water Guidelines (ADWG) recommend that your rainwater tanks should be cleaned every 2 to 3 years. But some areas require more regular cleaning due to:
Lots of tree coverage with falling organic material
Dry areas where animals, birds and insects are hunting for a water source
Sourcing water from Creeks, Dams, Bore or Spear
Spray drift from agricultural chemicals
Roadworks or dusty, dirt blown regions
From deteriorating water storage systems.
Regular maintenance will help prevent some of these problems, but you can't stop bacteria and viruses being washed into your rainwater tanks. Bird, insect and animal faeces are washed into your rainwater tanks every time it rains.
Pristine Water Systems has been in operation since 2003, becoming Australia's premier water tank cleaning business. As an industry leader we are also able to assist with expert advice when choosing and servicing the right filtration/ultraviolet sterilisation system for your family.
We come to you! Pristine Water System operators are a mobile business. We can quote over the phone or via email.
Call today or send a message and we'll get back to you as soon as possible.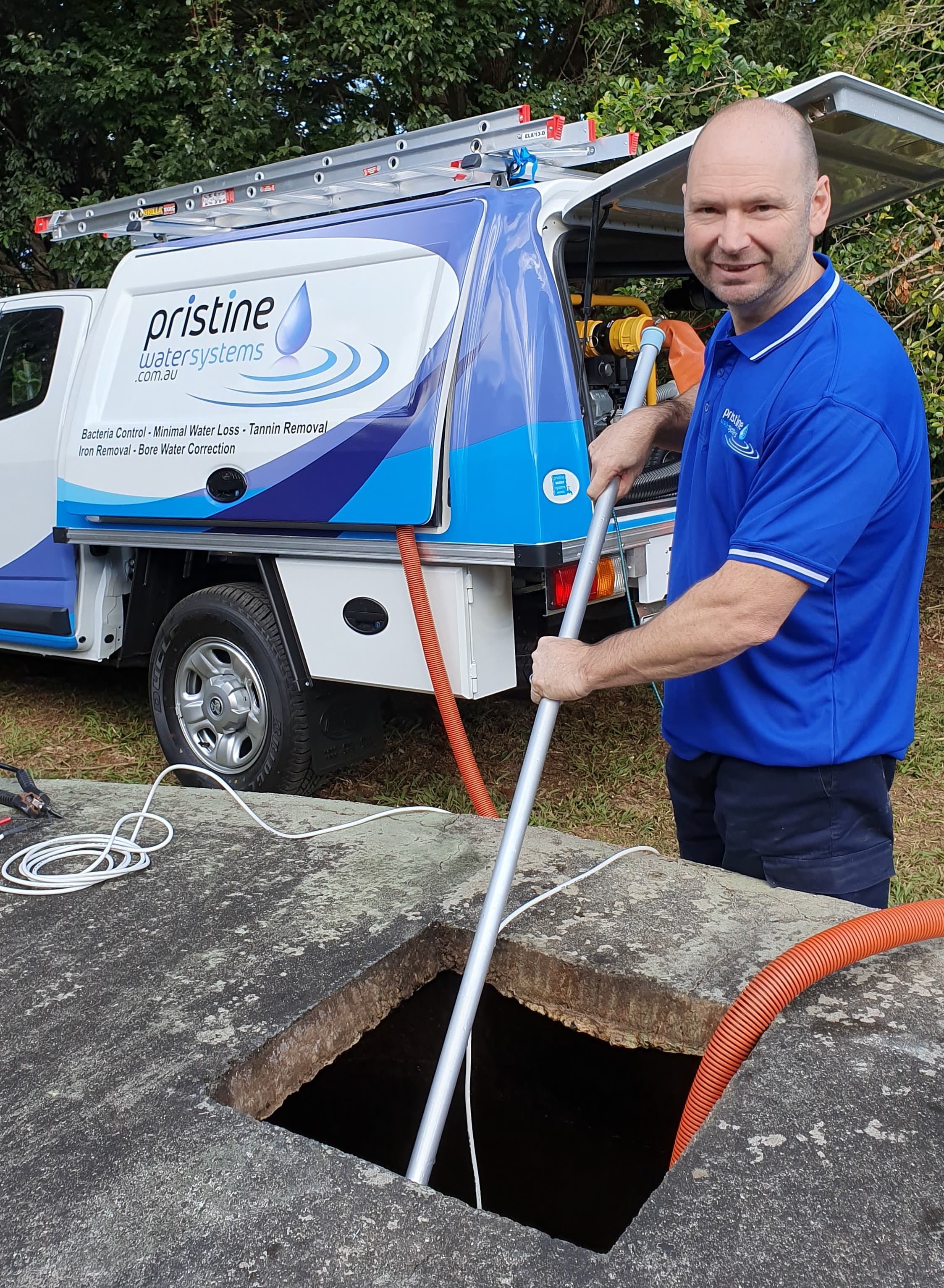 Tim Cook
Operator
Tim boasts many years experience in Customer Service and the Retail sector. For the last 10 years, he has managed a successful Specsavers store in the northern suburbs of Adelaide. He enjoys helping people and providing a high level of service. Which is the perfect fit as a Pristine Water Systems franchise owner.
Living locally in the Barossa Valley with his wife Gillian, Tim recently built their house, showing great hands on skills.
Their home is serviced by a 75,000 litre rainwater tank and with a fruit orchard on their property, there was a real need to ensure the right systems were in place to service all their needs. Having installed the pump and irrigation equipment for the house and the orchard, Tim and Gillian's research into the best water practices for healthy drinking water introduced them to Pristine Water Systems. As their property also utilises a dam for irrigation, Tim is well versed in the needs for water correction, filtering and sanitising of storage tanks to ensure the best quality water is available for consumption.
 Follow us on Facebook
Please contact with your enquiry
Our Products / Services
Pristine Water Systems are specialists in water management systems. From water testing, professional water tank cleaning and sanitisation services, through to water filtration systems to solve your water problems.
Pristine Water Systems (PWS) uses a revolutionary trademarked water tank cleaning process, QuadClean™, for cleaning and sanitising stored water supplies in a wide range of domestic, rural and commercial situations. In addition PWS supplies and services a complete range of domestic, rural and commercial filtration products. PWS also offers a water advisory service to seek solutions for many other water management issues.
QuadClean™ is suitable for a wide variety of domestic, rural and commercial situations as well as many other applications associated with the sanitisation and treatment of stored water.
Our cleaning process removes debris from the bottom of the tank, such as leaf mould, mud, animal faeces and carcasses and these are vacuumed and pumped out without the need to empty the entire tank.
No chlorine; PWS utilises WaterCare® which is a unique water purifying product, approved under the Australian Drinking Water Guidelines. WaterCare® controls bacteria and viruses, removes nasty odours while oxygenating and rejuvenating stored water.
Water tests are carried out to determine the pH level and conductivity.
*Please note: Not every situation enables the full QuadClean™ process to be utilised. Your Pristine Water Systems Franchisee/Operator will advise on the appropriate treatment processes for each individual/site specific situation.
Agery
Alford
Anama
Andrews
Apoinga
Appila
Ardrossan
Arkaroola Village
Armagh
Arthurton
Auburn
Balaklava
Balgowan
Bangor
Barinia
Baroota
Barunga Gap
Beaufort
Beetaloo Valley
Belalie East
Belalie North
Benbournie
Black Point
Black Springs
Bluff Beach
Blyth
Boconnoc Park
Booborowie
Boors Plain
Bowillia
Bowmans
Brady Creek
Brentwood
Bright
Brinkworth
Broughton River Valley
Bruce
Bumbunga
Bundaleer Gardens
Bundaleer North
Bungama
Bungaree
Burnsfield
Burra
Bute
Caltowie
Caltowie North
Caltowie West
Canowie
Canowie Belt
Chinaman Wells
Clare
Clements Gap
Clinton
Clinton Centre
Collinsfield
Condowie
Coobowie
Cook
Coonamia
Corny Point
Couch Beach
Cross Roads
Crystal Brook
Cunliffe
Cunningham
Curramulka
Dalkey
Davenport
Dowlingville
East Moonta
Edithburgh
Emu Downs
Emu Flat
Erith
Euromina
Everard Central
Farrell Flat
Fisherman Bay
Foul Bay
Georgetown
Geranium Plains
Germein Bay
Gillentown
Gladstone
Goyder
Gulnare
Gum Creek
Hacklins Corner
Halbury
Hallelujah Hills
Hallett
Hamley
Hanson
Hardwicke Bay
Hart
Hill River
Hilltown
Honiton
Hope Gap
Hornsdale
Hoskin Corner
Hoyleton
Huddleston
Inkerman
Inneston
James Well
Jamestown
Jericho
Jerusalem
Kadina
Kainton
Kallora
Koolunga
Koolywurtie
Koonoona
Kooroona
Kulpara
Kybunga
Lake View
Laura
Leasingham
Leighton
Lochiel
Lower Broughton
Maitland
Mambray Creek
Manoora
Marion Bay
Marola
Marrabel
Matta Flat
Mayfield
Melrose
Melton
Merriton
Minlaton
Mintaro
Miranda
Moonta
Moonta Bay
Moonta Mines
Mount Bryan
Mount Bryan East
Mount Templeton
Mundallio
Mundoora
Murray Town
Nalyappa
Nantawarra
Napperby
Narridy
Nectar Brook
Nelshaby
New Town
Ninnes
North Beach
North Moonta
North Yelta
Nurom
Paramatta
Parsons Beach
Paskeville
Penwortham
Petersville
Pine Creek
Pine Point
Pirie East
Point Pearce
Point Souttar
Point Turton
Polish Hill River
Port Arthur
Port Augusta
Port Augusta
Port Augusta North
Port Broughton
Port Davis
Port Germein
Port Giles
Port Hughes
Port Julia
Port Moorowie
Port Paterson
Port Pirie
Port Pirie South
Port Pirie West
Port Rickaby
Port Victoria
Port Vincent
Port Wakefield
Porter Lagoon
Price
Proof Range
Quorn
Ramsay
Redhill
Risdon Park
Risdon Park South
Robertstown
Rochester
Rogues Point
Saddleworth
Saints
Saltia
Sandilands
Sevenhill
Sheaoak Flat
Snowtown
Solomontown
South Hummocks
South Kilkerran
Spalding
Spring Farm
Spring Gully
Stanley
Stanley Flat
Stansbury
Steelton
Stenhouse Bay
Stirling North
Stone Hut
Stow
Sultana Point
Sunnyvale
Tarcoola
Tarnma
Telowie
The Pines
Thomas Plains
Thrington
Tickera
Tiddy Widdy Beach
Tothill Belt
Tothill Creek
Ulooloo
Undalya
Urania
Wallaroo
Wallaroo Mines
Wallaroo Plain
Wami Kata
Wandearah
Wandearah East
Wandearah West
Warburto
Ward Hill
Warnertown
Warooka
Washpool
Watchman
Waterloo
Watervale
Wauraltee
Weeroona Island
Weetulta
West Bundaleer
White Hut
Whitwarta
Whyte Yarcowie
Willalo
Willamulka
Wilmington
Winninowie
Winulta
Wirrabara
Wokurna
Wongyarra
Wonna
Wool Bay
Woolundunga
Worlds End
Worlds End Creek
Yacka
Yelta
Yorke Valley
Yorketown